Jan 1 Pakistan recognizes Sudan as sovereign state
Jan 9 Law Minister I.I.Chundrigar introduces draft of Consitution to Constituent Assembly
Feb 29 Constituent Assembly approves Constitution while Awami League, Azad Pakistan Party, Communist Party of Pakistan, Congress, United Progressive Paarty and 3 minority members walk out. Constitution to be implemented from March 23.
Mar 2 GG Iskander Mirza endorses Constitution
Mar 4 Constituent assembly elects unopposed Iskander Mirza President of Pakistan
Mar 15-Apr 9 National Assembly sessions (17 sittings)
Apr 23 Republican Party launched
May 3 Civil, military medals announced. Nishan-e-Haider to be highest military award
Sep 5 Jang officially declared the largest printing Urdu daily, circulation nearly 22,000
Sep Ataur Rahman Khan becomes CM in East Pakistan
Oct 8-15 National Assembly sessions (5 sittings)
Oct PM Surawardy visits China. Supports Britain, France on Suez Canal issue
Oct 11 Karachi. Australia-Pakistan cricket test match opens with record lowest score of 95 runs for 12 wickets (10 Australian, 2 Pakistani). Pakistan defeats Australian test
Dec 2 Progressive leader Mian Iftikharuddin launches Pakistan National Party including among others Abdul Ghafar Khan and G.M.Syed
A. K. Fazlul Haq appointed Governor of east Pakistan
Obituary
Ghulam Muhammad (b.1895): civil servant, former Governor General (Aug 29)
Husnain Fazli: film director (Sep 9)
Zafar Ali Khan: journalist, poet, politician
Islamic Republic of Pakistan
March 23: The Constitution, coming into force from today, renames the country as the Islamic Republic of Pakistan. Legislature will consist of 310 seats (10 for women) equally divided between the two wings. Elections are promised to be held in February 1959, while the quota system for government jobs is allowed to continue for 10 years.
Pakistan stays in the Commonwealth of Nations, but other norms of allegiance to the Queen of England come to an end today as Pakistan declares itself a republic.
---
Governor-Generals,
1947-56
Quaid-i-Azam Muhammad Ali Jinnah (Aug 15, 1947-Sep 11, 1948)
Khawaja Nazimuddin (Sep 1948-Oct 1951)
Ghulam Muhammad (Oct 1951-Oct 1955)
Iskander Mirza (Oct 5, 1955-Mar 1956)
Presidential statement
April 5. President Iskander Mirza, who arrived in Lahore today has denied that his early return from Azad Kashmir is connected with the Muslim League's decision to form its own parliamentary party in the West Pakistan. "I found a great deal of speculation as to why I have returned so quickly and what action I am going to take in view of the decision of the Muslim League Party," he has declared in a public statement, "I wish to make it clear that as President of Pakistan I belong to no party and I am not interested in political maneouvres and squabbles."
---
Five Year Plan
May 16. PM Ali has announced a Five Year Plan recognizing the inter-dependence of the different sectors of the economy and the need for their integrated development. Agriculture, previously ignored in favour of industry, is restored to focus. Development of East Pakistan also receives a special attention.
However, it may be questioned whether the Plan takes a realistic evaluation of national resources. Likewise, the estimate of domestic savings to the tune of Rs. 590 crore and of external expenditure of Rs. 420 crore for financing its implementation seem to be too optimistic. The issue of social and economic justice finds no address in the plan, and the government seems less than enthusiastic towards the financial provisions for education, health and welfare. Moreover, there seems to be no guarantee that the increased production will also be distributed fairly.
---
Economy
July. Raw jute constitutes almost 49% of total exports, all of it coming from the eastern wing of the country. This can be considered as one of the indicators of low ratio of manufactured exports
---
Chaudhry Mohammad Ali resigns


H. S. Suhrawardy and Chaudhri Muhammad Ali.
September 12: Hussain Shaheed Suhrawardy, the seasoned politician from East Pakistan, has replaced Prime Minister Chaudhry Mohammad Ali, who resigned yesterday. He was nominated by the President according to the Constitution. Reportedly, PM Chaudhri suffered from nervous breakdown due to the political stress that came with his office - raised as a bureacrat, he was not used to it.
Suhrawardy, the new PM, has been a distinguished leader of the Pakistan Movement and the country's first constitutional leader of Opposition.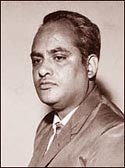 Imran Series
Launched this January, Ibne Safi's Imran Series is gaining as much popularity as his Jasoosi Duniya, with the funny detective Ali Imran becoming a household reference.
---

First Sindhi movie
March 12. Umar Marvi, released by Fazlani Films, is the first movie in Sindhi language; starring Nighat Sultana, Fazlani (both seen here), Charlie; music Ghulam Nabi Lateef, produced by Fazlani, directed by Shaikh Hasan
---
Religious leaders boycott reforms for women
June 1 The Family Laws Commission, appointed in 1954, has presented its recommendations. Restrictions on polygamy and the wife's authority to divorce the husband are in line with the ideas of Iqbal, the ideological father of the country. Maulana Ehteshamul Haque Thanvi writes a note of disagreement. Recommendations may be shelved due to opposition from orthodoxy.
---
The Pakistan option
Khwaja Khurshid Anwar, who scores the music for the new Noorjahan hit Intezar, is perhaps the latest addition to the long list of celebrities who have opted for Pakistan inspite of a stable position in India.
Earlier entries include the melody queen Madam Noorjahan (left), Shaukat Husain Rizvi (below left), Rafiq Ghaznavi, Saadat Hasan Manto (died 55), Master Ghulam Haider (died 1954) and, recently, Josh Malihabadi.
---

Melbourn Olympics
Dec 6: Pakistan hockey team led by Abdul Hameed Hameedi makes it to Final in the Olympics but loses against India by 0-1
Songs remembered
Jiss din say piya dil (Intezar)
Mehki havain (Intezar)
Janay walayre thehro zara ruk jao(Intezar)
Woh khwab sohana toot gaya (Lakht-e-Jigar)
Chanda ki nagri say aaja (Lakht-e-Jigar)
Teri ulfat mien sanam (Sarfarosh)