Jan 3 Ayub leaves for Tashkent on invitation from USSR Premier Kosygin for round table conference with Indian PM Shastri;
Jan 29 Ayub denies rift between himself and Foreign Minister Bhutto
Apr 29- May 4 Shah Faisal of Saudi Arabia visits Pakistan
Apr 30 Ayub formally inaugurates Atomic Reactor at Nilor, which had started working on Dec 22 last year. The complete set-up has taken 3 years to be finalized
May Mujib is arrested
May 4 Pakistan becomes the second Asian country after Japan to manufacture its own ship, as Al Abbas, the first Pakistani mercantile ship is launched today
May 6 Humrahi, a movie inspired from the last year War, is released and even includes the now famous Ayub Khan speech; the music is by Tasadduq and the film is directed by Rajah Hafeez
Jun 7 Awami League workers observe strike in East Pakistan to protest against Mujib's arrest Awami League workers observe strike in East Pakistan to protest against Mujib's arrest
Jun 17 Foreign Minister Bhutto goes on long leave "on grounds of health."
Sep Nawab A M Khan of Kalabagh resigns as Governor, West Pakistan, presumably due to disagreement with Ayub
Obituary
Fakhr Matri:
journalist (Mar 5)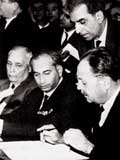 Tashkent Declaration signed
January 10. Tashkent Declaration has been signed by India and Pakistan. Both armies have agreed to retreat to September 5 positions. Kashmir issue is to be solved through mutual understanding in the light of UN principles.
---
Anti-Tashkent demonstrations
January 13. The opposition political parties have launched Anti-Tashkent demonstrations throughout the country. Apparently there is a strong feeling of betrayal, as many think that the battle won in the field has been lost on the conference table.
---
Birth of a leader?
Junuary 22. Bhutto has received historic welcome on Lahore Railway Station, on way back to Larkana.
---

Mujib's Six points
February 5. While a national conference of political parties adopts a common stand on the issue of Kashmir, the Awami League leader Sheikh Mujibur Rehman's 6-point formula for economic relief of East Pakistan raises concerns in the minds of those who favour consolidation of power in the Centre. This despite the fact that Mujib terms the formula negotiable.
---
Industrial boom
Largely due to the exceedingly pro-development policies initiated in the second five-year plan finalised in 1961 -- which included the opening up of the economy to private enterprise, tax concessions for industry, cheaper credit and less governmental interference -- there has been a boom in the industrial economy over the last five years. GNP grew by 30 percent during the plan period (1960 - 65), industrial production by 61 per cent and forex earnings at 7 per cent per annum.
Pakistan's new star:
Waheed Murad
---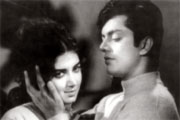 ---
The soft melodramatic Arman, released on March 18, is the first Pakistani movie to complete 75 weeks (platinum jubilee). It stars Waheed Murad (who also writes and produces), Zeba, Nirala, Rozina, Zahoor Ahmad, Bibbo and Tarranum, has music by Sohail Rana, lyrics by Masroor Anwar and directed by Pervez Malik.
The songs have become extremely popular among the youth and already the 28-year old hero, Waheed Murad, is a new style icon, perhaps the greatest the country has discovered so far. His distinctive hairstyle has become the most popular fashion with young males while the news in the town is that a Waheed Murad photograph is not an unlikely thing to be found in a college girl's purse!
---
Left to right: Pervez Malik (director), Sohail Rana (music composer), Musroor Anwer (lyric).
---
HEJ Institute
Renowned scientist Salimuz Zaman Siddiqui has founded Hosein Ebrahim Jamal (HEJ) Post-graduate Institute of Chemistry at Karachi University.
---
Zeba marries Ali
September 29. Silver screen beauty Zeba marries action hero Muhammad Ali. Waheed Murad fans are anxious over the breaking up of Arman pair.
Songs remembered
Ko ko korina (Arman)
Akalay na jana (Arman)
Jub piyar mien do dil miltay hien (Arman)
Ya qurban! Sherdil Khan...aa! (Sarhad)
Yaad kerta hai zamana (Humrahi)
Mujhay chhore ker akaila (Humrahi)
Duniya kissi kay piyar mein (Jaag uttha Insaan)
Shama ka shola bhhadak raha hai (Aadil)
Baday bemurawwat hain yeh husn wallay (Badnaam)
Tumhi ho mehboob meray (Aina)