Jan 1 Politicians barred on corruption charges 8 years ago are allowed to join politics
Aug 1 Asian Television Service (ATS) starts as a medium for exchanging television news clippings between Television Corporation of Pakistan and the IFAGE Film Production of Wiesbaden (Germany)
Aug 24 Asif Iqbal, Intikhab Alam tot up record breaking 190-run ninth wicket partnership at Oval
Nov 2 Karachi television station inaugurated by Ayub Khan
Oct 20-26 Bhutto visits East Pakistan; supports Mujib's 6-Point Program, which he had opposed as 'anti-national' while he was still a Foreign Minister
Nov Governor's Conference approves a comprehensive publicity program to celebrate the 10th anniversary of Ayub's reforms next year.

Obituary
Akmal:
film star
Fatima Jinnah:
politician
Atiya Fayzee:
connoisseur of music and art
Shahid Ahmed Dehlvi:
writer, founding editor of literary magazine, Saqi
Indo-Pakistan relations improve?
January. Improvement of relations between India and Pakistan seems a possibility now. President Ayub's call for an agreed reduction of defense expenditures by India and Pakistan, offered in the course of a speech at the Institute of International Affairs, has been picked up by the Indian Foreign Minister M. C. Chagla, who has proposed talks on the subject between officials of the two countries on a 'quiet, continuing and confidential basis.'
Meanwhile, the Tashkent Declaration continues to pose difficulties for Ayub Khan on the home front even a year after its signing. Indian offer to jointly celebrate the first anniversary of the Declaration had to be politely declined.
---
US' new arms supply policy
Following the long debates over arms supply to India and Pakistan (which was embargoed since the outbreak of the 1965 War), the US President Johnson has finally decided that the USs would sell spare parts for previously supplied US equipment but would not provide financial credits or grant military assistance.
Permission for Pakistan to obtain "nonlethal" equipment was already granted in March last year. The embargoes remains on the supply of "lethal" equipment (such as tanks, fighter and bomber aircrafts and artillery), but the new policy has made it possible for Pakistan to repair and maintain such equipment.
---
Ayub's safari
October. President Ayub takes an extended and liesurely tour of Iran, Turkey, France and Romania.
Unreported but true, Ayub was highly frustrated by the Shah of Iran's flat refusal to Ayub's request for issuing a protest against the recent anti-Muslim riots in India. The highest point in the tour was probably the Turkish part where Ayub was received on the airport by Ataturk's surviving colleague Ismat Inonu (now unable to stand up from his chair), and the National Day Parade offered him a salute.
Ayub's host in France was the President Charles De Gaulle while in Romania the Pakistani President had to contend with Causescue, the very powerful secretary general of the Communist Party, who flopped Ayub's American brief by refusing to sign the Nuclear Test Ban Treaty (NTBT).
---
Nawab Kalabagh murdered
November 26. Nawab Ameer Muhammad Khan of Kalabagh, ex-Governor WP is found murdered under mysterious circumstances. Son Malik Asad has been booked as the prime suspect.
---

"All power to the people"
November 30 - December 1, Lahore. Former foreign minister Zulfikar Ali Bhutto launches the Pakistan People's Party with the line: "Islam is our religion, Democracy is our politics, Socialism is our economy, All power to the people."
---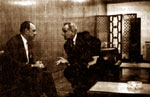 President Johnson's stopover
December 22. The US President Johnson met Ayub Khan briefly at Karachi airport on his way home from a trip to Vietnam.

July 26. Yaadgar-e- Pakistan completed
Wrong Number
Junuary 25. Postage stamps issued a month ago commemorating the 69th birthday of Bengali poet Nazrul Islam have been withdrawn. New stamps have been issued. The earlier ones, bearing the wrong date of birth, are likely to become valuable collectors' items.
---
More than a Dilip Kumar look alike

Nadeem (real name Nazeer Beg), who has received an instant success with his debut film Chakori, has the looks and mannerism of Dilip Kumar to his credit but he also has a charisma of his own to insure a prosperous career. His colleagues testify to a level of professional seriousness that is rare in our film industry.
---
Ayub's autobiography
Ayub's autobiography Friends, Not Masters is out on the stalls. It is published by Oxford University Press and, according to the common perception, ghost-written for the President by his Information Secretary Altaf Gauhar.
---
Former President Iskander Mirza has refuted some of the assertions of Ayub's autobiography. Mirza's letter to The Times of London is his only public statement since his deposition.

Read complete text: President Mirza's letter to The Times, London, September 13
---
Policing the television
November. Karachi Television Station has been built about six miles from downtown Karachi on the lonely road joining the Central Jail and the National Stadium. Those who attended the inauguration are describing the ceremony as a fiasco that might cost the first Managing Director Z. A. Bukhari his job.
Since earlier this year, the Television Promoters Company has been converted into a public limited company called Pakistan Television Corporation. Its first Managing Director, AMS Ahmad, is a senior police officer from East Pakistan and detractors claim that his only qualification for the job is that he is a son in law of the Information Minister Khawaja Shahbuddin.
Songs remembered
Meray hamdam meray saathi (Insaniyat)
Tum ho haseen iqrar karo (Waqt ki Pukar)
Kahan ho tumko dhoond rahi hain (Chakori)
Yeh kaghazi phool jaisay chehray(Devar Bhabhi)
Ik naye mod pay (Ehsaan)
Tumhein kaisay bata doon (Doraha)
Bhooli hui hoon dastan (Doraha)
Mujhe tum nazar say (Doraha)
Yeh mausam yeh mast nazaray (Darshan)
Yoon zindagi ki rah (Aag)