Jan 14 COAS Jehangir Karamat clarifies position on CDNS: "when an elected government is in place, it can do away with or modify the CDNS... the Prime Minister is the chief executive"
Jan 18 Bomb blast in premises of sessions court in Lahore kills 30, including SSP chief Ziaur Rehman Farooqi and 22 policemen
Jan 19 Iranian Cultural Centre is torched by SSP
Feb 3 NA and PA elections
Feb 15 ANP agrees to support PML (N) in Frontier assembly
Feb 17 Nawaz Sharif sworn in as PM
Feb 19 PM wins NA vote of confidence with 181 votes
Feb 19 Mohammad Ali Rahimi, director Iranian Cultural Centre is gunned down in Multan; Lashkar-e-Jhangvi claims responsibility
Feb 28 Quetta is jolted by the most severe earthquake in the region since 1935
Mar 21 Relationship with IMF completely breaks down; Sartaj Aziz proclaims Pakistan can no longer live with Fund's conditionalities
Mar 26-27 Six Tekfiri Arab militants killed after stand-off with Frontier police at Jalozai refugee camp
Apr Jansher Khan wins 6th British Open; 4 short of Jehangir Khan's record
Apr 9 PAF Squadron Leader Farooq Ahmad arrested in New York while trying to sell 2 kg of heroine
Apr 24 Admiral Mansurul Haq dismissed on charges of corruption and misappropriation of funds
Mar LHC decides in "Saima-Arshad case" that an adult Muslim woman can marry without guardian's consent
May 5 Sectarian leaders sign agreement for mutual respect; minutes later, two more militants killed
May 8 A PAF Mirage pilot drops fuel tanks over Gharibabad, Karachi; 9 killed, 14 injured
May 14 Pakistan signs agreement with Turkmenistan and US firm Unocal for major gas pipelines
May 25Pakistan recognizes Taliban govt in Afghanistan after student militia enters Mazar-e-Sharif
May 31 Parliament turns Ehtesab Ordinance 1994 into Act
Jun 5 Taliban and Gen Malik Pahlawan deny news of truce, refuting Pakistan FO's claim
Jun Aimal Kansi is picked up by Pakistani and American FBI agents from a hotel in Dera Ghazi Khan and taken to US; public outrage over seemingly illegal procedure
July 24 Ties normalized with IMF; new ESAF-EFF signed
Dec 2 President Farooq Leghari resigns in the wake of a complicated battle between the judiciary and the Prime Minister.
Dec 23 A Supreme Court bench of 10 judges holds invalid the appointment of Justice Sajjad Ali Shah as Chief Justice of the Supreme Court in 1994. On the directive of the same bench, the federal government has appointed Mr Justice Ajmal Mian as the Chief Justice. This blunt move has brought to an end the complicated tussle between the judiciary and the Prime Minister that had been going on since the last month.
Dec 31 PML nominee Rafiq Ahmed Tarar is voted President amid sarcasm from liberal newspapers, who have openly accused that his major qualification for the office seems to be his personal friendship with Nawaz Sharif's autocratic father.
National Assembly passes the Pakistan Environmental Protection Bill (PEPA) to replace the 1983 Environmental Protection Ordinance.
Obituary
Khalil Ahmed: music composer (Jul 21)
Dorab Patel: ex-justice SC, human rights activist
Ansar Nasri: broadcaster
Nusrat Fateh Ali Khan: music composer, singer
Shiekh Ayaz: Sindhi poet (Dec 28)
Yes!
January 6 Caretaker Prime Minister Meraj Khalid approves formation of 10-member Council for Defence and National Security to be chaired by the president and including the Chairman of the Joint Chiefs of Staff Committee, three armed services chiefs, the Prime Minister and the defence, finance and foreign ministers.
No!
January 5 Caretaker PM Malik Meraj Khalid categorically denies the possibility of any national council being formed. Human rights NGOs including HRCP have been opposing the idea of CDNS, claiming that the "council will create rival centres of powers, doom the process of democracy and instead of promoting national security, it will open it to new perils."
---
Landslide Victory
February 3 In the wake of a landslide victory in Election '97, Nawaz Sharif's PML and its allies sweep to power. The PML (N) wins an astounding 134 seats and the PPP crashes to an all-time low with just 18. The MQM gets 13, while Imran Khan and Mussarat Shaheen fail to make an impression, as does Ghinwa Bhutto.
---
Anti-debt drive
Addressing the nation for the first time in his second term, Prime Minister Nawaz Sharif declares his commitment to egalitarian reforms, political stability and reviving the economy. The populist rhetoric aside, his speech was a departure from the fare regularly churned out by politicians. Sharif tackled the issues close to people's hearts, lashing out against corruption, political adventurism, violence against women and economic mismanagement. Promising that he would personally answer people's phone calls, he also made a passionate appeal for donations to retire the nation's debt, and this too was well-received, and imposed a somewhat less popular ban on wedding feasts. In a major development, Sharif reverted the weekly holiday back to Sunday.
---
The great gamble
March 28 On a wet Friday morning, Finance Minister Sartaj Aziz walked to his corner front row in the National Assembly hall and took a deep breath. Over the course of the next hour, he dissected the Pakistan economy and put it back together again as he saw fit. This was the "revolutionary" Economic Revival programme that Prime Minister Nawaz Sharif had been promising the nation. (Contributed by Irfan Malik)
---
Great leap forward
April 1 Both houses of parliament pass 13th Amendment to the Constitution, scrapping Article 58-2 (b) from the Zia-era 8th Amendment. The president can no longer dissolve parliament without the prime minister's recommendation and the latter now has the power to appoint military chiefs.
---
Pakistan's most wanted
July Police authorities deny that dreaded Lashkar-e-Jhangvi militant Riaz Basra has been arrested. With two million rupees riding on his head, Basra it is believed is still at large.
---
Golden Jubilee
Pakistan's golden jubilee year, kicked off by one government that was later kicked out, will be seen through by another. From a historical perspective, perhaps it's only appropriate.
---
History forgotten
The Golden Jubilee celebrations reach their peak on August 14th. Pakistan Television tells its audience that the Independence took place on the midnight of 13th and 14th August, shamefully forgetting the fact that it was the midnight of 14th and 15th August 50 years ago,
---
Nominee Rafiq Tarrar
December 16. PML nominates Senator Rafiq Ahmed Tarar as its candidate for the forthcoming presidential election. A man of low profile, the retired justice has so far been known primarily for his religious ferocity and strong biases against the Ahmedi community. As a Lahore High Court judge in 1987, he refused bail to an Ahmedi lawyer who was being tried for wearing an amulet bearing Kalima-e-Tayyaba. As a Supreme Court judge in 1994, he upheld a ruling that called for the amputation of "right hand… and left leg" of a young man for stealing Rs. 40,000 and a pistol. Again, as a senator in April 1997, he wrote an angry article in an Urdu newspaper against the appointment of an Ahmedi judge to a session court. On top of this are his staunch views against the equality of women. Does this man suit to be the successor of Muhammad Ali Jinnah, is what the serious-minded in the country are asking.
Frying high
February After decades on the fringes of global marketing, Pakistan is suddenly being eyed by some of the world's leading fast food franchises. Following Pizza Hut and Wimpy, Kentucky Fried Chicken has proved to be an instant hit with Karachi's middle classes.
---
Combating desertification
Pakistan has ratified the UN Convention on Combating Desertifiction (CCD), an international treaty formulated in 1994 to provide framework for collaborative action against environmental damage and acute poverty in teh marginalised drylands.
---
Shifting waters
Pakistan Irrigation Drainage Authority (PIDA) Act shifts a considerable responsibility for irrigation and drainage management from the bureacracy to the farmers. Although there is only farmer representative at the provincial level, it is hoped to provide an opportunity for the more participation from the farmers.
---
Disaster at Khanewal
March 3 Tragedy struck the Karachi-bound Zulfikar Express this morning. After a sudden break failure near Khanewal, the railway staff tried to divert the runaway train on to another track, but it slammed into a dead end. The accident left 125 dead and 55 injured.
---
SUNDAY TO BE WEEKLY HOLIDAY
---
Getting connected
Catching the government by surprise, surfing the Internet is now an increasingly popular pastime in urban Pakistan. Local website, ranging from Junoon fan clubs to Dr. Israr's text-heavy page, have become a growth industry.
---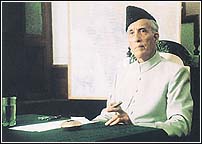 Covering Jinnah
Controversy is raging over the filming of Jinnah, a film produced by Akbar S. Ahmed and directed by Jameel Dehalvi. Objections are being raised over the choice of actor Christopher lee of Dracula fame as the actor portraying Jinnah, inclusion of Indian Shashi Kapoor in the cast and the experimental nature of the script.
---
Mater blaster
May 21 Saeed Anwar strokes, caresses and blasts his way to the highest individual score (194) in one-day cricket in an Independence Cup match against India in Madras.
---
Births of a nation
Pakistan's population, which stood at 34 million at independence, has now skyrocketed to an estimated 130 million, with 55 per cent under the age of 20.
---
The Life and Times of Pakistan
Herald prints a concise chronology of the 50 years of Pakistan.
'The Life and Times of Pakistan' is written and compiled by Khurram Ali Shafique; research assistants Muzzammila Shafique, Munazza Nargis, Adnan Hasan Syed, Bushra Ahmed; Editorial supervision by Sherry Rehman (Managing Editor), Talat Aslam (Editor), Irfan Malik, Firuza Pastakia (Assistant Editors), Hasan Zaidi (Features Editor) and Erum Nasir (editorial Assistant). Published by Pakistan Herald Publications Ltd., Dr. Ziauddin Ahmed Road, Karachi, Pakistan.
---
Seminar on conflict resolution between India and Pakistan
Seminar "The Role Of Civil Society in Pakistan and India: Peace, Conflict Resolution, Democracy" is organized by Jang Group of Newspapers (Pakistan) & Friedrich/Naumann Foundation (Germany), September 12-13, 1997 at Pearl Continental Hotel, Karachi.

Read procedings of the Seminar
---
Textile Exhibition
December. The Textile Exhibition at the Indus Valley School of Arts this month was a treat for those interested in the ethnic heritage of Pakistan.
December. The Pakistani team wins 18 medals (including 3 gold and 5 silver) at the 2nd Islamic Countries women Sports Games Tehran 1997.
---
Edhi besieged
December 23 Maulana Abdul Sattar Edhi holds a press conference to protest against the illegal occupation of 200-bed hospital by the religious students of a madrassah with Jamiat Ulema-e-Islam backing. The hospital was completed with some 25 million rupees from the Edhi Trsut, but the students from the adjacent madrassah, armed with firearms, attacked it just a day before inauguration and forcefully occupied it. Maulana Fazlur Rehman, the JUI chief visited his students eight days after the occupation to commend them on the break-in and brand Maulana Edhi as a kafir. The authorities haven't taken any notice of the situation so far.