Jan 2 Ghulam Ishaque Khan new chairman of WAPDA
Jan 13 The Commission for Social Evils appointed
Mar 2 Muslim family laws revised in view of the report submitted by Marriage and family Law Commission in 1956
Apr 28 Film Fact-finding Committee submits report
Apr 29 Shahabuddin Commission completes draft proposal for constitution based on 62.2% of the opinions elicited through questionnaire
May 6 Constitution Commission submits report

May 7 Cabinet Commission headed by Manzoor Qadir to revise the Shabuddin Commission Report on constiution
May 12 Power Commission appointed
May 19 Police Commission submits report
May 20 US Vice President Lyndon B. Johnson visits Karachi and stops on his drive from airport to meet a number of common people, icluding a camel driver who is invited to visit US
Jul 7 Surplus Manpower Commission submits report
Sep. Regulation 89 (a law regarding claim of land by refugees from India) issued.
Oct 29-31 Governors' conference approves proposals for future constitution submitted by Cabinet Committee headed by Manzoor Qadir. A major diversion from Shahabuddin Committee's recommendations, these are more in line with Presidents' whims
Oct In the test against England at Dacca, Haneef Muhammad becomes 1st Pakistani to score hundreds in both innings
Nov 15 Radio Pakistan starts commercial service as part of "reformative policies of President Ayub"
Dec 12 Finance Commission appointed
Dec 27 Law Reform Commission and Company Law Commission submit reports
Obituary
Maulvi Abdul Haque
linguist, popularly called "Father of Urdu" (Aug 16)
Ataullah Shah Bukhari
religio-political leader, orator, anti-Qadyani campaigner (Aug 21)
Ghulam Muhammad
film actor
(Oct 3)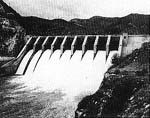 Warsak Dam
January 27. Warsak Dam inaugurated on the River Kabul 20 miles from Peshawar, built with a total cost of Rs 35 crore over last 4 years
---
Women's rights sanctioned
March 2. Family Laws Ordinance passed today is based on the Rasheed Commission Report, shelved due to religious resistance in 1955. Salient features include restrictions on polygamy, wife's authority to divorce and provisions about inheritance.
---
Ayub annoyed
May 6. Shahabuddin Commission's report formally submitted to Ayub recommends Presidential form of govt but also adult franchise, revival of political parties system, a powerful legislature and no place for Basic Democracies in the future.
---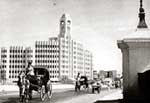 Salaam Karachi
July 1. Karachi, former federal capital becomes an official part of the province of WP today. It is given the status of WP's 12th division. The decision was made on Mar 26, announced on Jun 22 and formally ordained by the President on Jun 29.
---
A friend of immediacy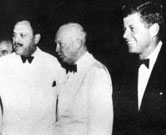 President Ayub, Eisenhower and John F. Kennedy
July 12.President Ayub addressed a Joint Session of the Congress of the United States today during his trip to the US. "The only people who will stand by you are the people of Pakistan," he said. "Provided that you are also prepared to stand by them. So, I would like you to remember that, whatever may be the dictates of your commitments, you will not take any steps that might aggravate our problems or in any fashion jeopardize our security. And as long as you remember that, I have no doubt in my mind that our friendship will grow in strength." Yesterday the US President John F. Kennedy in his welcome address to President Ayub at Andrews Air Force Base has described Pakistan as "a friend of immediacy and constancy."
---
Mangla Watershed
WAPDA has established the Mangla Watershed Project to prolong the life of the Mangla reservoir, recently conceived as part of the irrigation system developed under the Indus Basin Treaty. Foresters, agro-ecologists and civil engineers in consultation with the local landowners to assess the best range management techniques. The project requires quick reforestation in some areas while other areas are going to be protected by check dams and retaining walls.
This far-sighted project is estimated to bring a cost benefit of over 122 million rupees over the next decades, and also increase the life of the dam by many years. The estimated life of Mangla reservoir is 110, but it may last as much as 60 years longer than that if such environmental measures are put in place.
Pakistan adopts decimal system of currency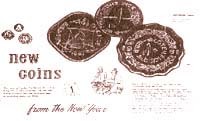 January 1. One rupee equals 100 paisas instead of 64; 1 anna equals 6 paisas instead of 4. New coins to be issued for 1, 2, 5, 10, 25, 50 paisas
---
Record flight
January 2. Air Marshal Asghar Khan flies Peshawar-Dacca in 2hr 30 min record time
---
Prize Bond
April 1. First draw for the National Prize Bonds, launched last October, is announced today
---
India imposes ban on postage stamps
Letters from Pakistan carrying "disputed territory stamps" (See Mar 23, 1960) are being returned undelivered by the Indian authorities following ban on these stamps and the Deputy Foreign Minister's statement in the Indian parliament
---
Film with Indian city in title
Kay Productions' Bombay Wallah, released May 26, is the only Pakistani film to have an Indian city name in its title. The censors deserve credit for being reasonable.
CHAMBELI replaces Nargis and Cheetah as the national symbol from Jul 15. The former symbols have been criticised because each of them was found in one wing of the country but not in the other.
---
The swimmer
Sepember 22 Brojen Das from East Pakistan swims across British Channel in record 10 hr 35 min
---
Let there be color
October 27. Gul Bakawli features first Pakistani color songs, filmed by M. Fazil, processed by Piyaray Khan; music from Safdar, produced by Q. Zaman, directed by Munshi Dil; starring Jameela Razzak & Sudhir
---
Red carpet for Pakistani camel driver in US
October. Basheer Sarban, the camel driver who was invited to visit US (<May), finally makes it – as the common guest of US President and Readers' Digest. Fate smiles on him as he poses on cover pages of international magazines, soon to return home with precious gifts from his American host.
Songs remembered

Jhatak kay daman (Haboo)
Raat saloni ayi
(Zamana Keya Kahay Ga)
Muddat hui hai yaar ko (Ghalib)
Chand sa mukhda gora badan
(Saperan)
Har gayi tosay dil laga kay (Barah Bajay)
Noorjahan bids farewell to acting with her last bow, Ghalib.