Mar 5-6 President Zia is kept out of All Parties Conference convened by PM Junejo to solicit support for Pakistan government's stance on the Afghan issue; Benazir Bhutto and other top leaders are among the invitees
Apr 12 PM Junejo sets up two-member commission headed by Lt General Imranullah Khan to probe into Ohjri Camp disaster; report to be submitted within 10 days
Apr 14 Geneva Accord, signed by Pakistan foreign minister Zain Noorani and Kabul representative Abdul Wakil, ensures withdrawal of Soviet troops from Afghanistan bby Feb 15, 1989; withdrawal to begin May 15; half of the troops to leave by Aug 15
Jun Zia promulgates Shariah Ordinance; muftis with the status of deputy attorneys to advise high courts, economy and education to be Islamised
Jul 21 Zia announces elections for Nov 16, to be held on non-party basis
Jul 28 Joint Action Committee holds "Convention for the repeal of the Shariah Ordinance" at Karachi Press Club
Jul Seventh 5-year plan, prepared in Junejo days, is announced with a total allocation of Rs. 660.2 billion, the highest so far
Aug Allama Syed Arif Hussain Al Hussaini, leader of Tehrik Nifaz-e-Fiqh Jafria (TNFJ) assassinated in Parachinar
Sep 27 Lahore High Court (LHC) declares Zia's dismissal of Junejo Government unconstitutional
Sep 30 Unknown snipers in Hyderabad kill 120 in a brutal massacre; army called in to restore order and curfew imposed
Oct 1 LHC clarifies it has not decreed that NA be restored; fresh elections to be held as per schedule
Oct 5 Supreme Court upholds LHC decision to hold election as per schedule
Oct SC verdict in favour of party-based elections
Oct 6 Eight political parties led by the Pakistan Muslim League form Islami Jamhoori Ittehad (IJI); observers suspect ISI chief General Hameed Gul to have engineered the anti-PPP coalition
Oct 10 Jamaat-e-Islami joins IJI
Oct 15 Shariah Ordinance fizzles out as there is no NA to approve it and its creator, General Zia, is dead
Oct 26 Maj Gen (retd) Tajammul Husain Malik, imprisoned for plotting to assassinate Zia in March 1980, is set free
Nov 8 IJI leader Nawaz Sharif visits MQM boss Altaf Hussain to explore avenues for future cooperation
Nov 16 PPP bags 93 seats in NA elections, IJI 54 and MQM 13; Nawaz Sharif manages to cobble together a majority in Punjab with help of independents
Nov 21 Benazir Bhutto begins talks with Altaf Hussain to secure majority in NA
Dec 1 President Ghulam Ishaq Khan nominates Benazir Bhutto PM
Dec 2 Zafarullah Jamali elected CM of Balochistan with speaker casting vote, but not likely to win vote of confidence; Qaim Ali Shah Sindh CM, Aftab Sherpao Frontier CM with ANP support
Dec Operation Galaxy prisoners pardoned
Dec 15 Gen (retd) Musa Khan, Governor, dissolves Balochistan Assembly on recommendation of CM Zafarullah Jamali
December 12 Ghulam Ishaq Khan, supported by both PPP and IJI, is elected president receiving 348 votes against Nawabzada Nasrullah's 91

Obituary
Imtiaz Ahmed: TV artist
Jamila Hashmi: novelist
Mehdi Zaheer: broadcaster, composer, singer
Raees Amrohvi: poet (right)
Ohjri Camp explosion kills many
April 10 Ojhri Camp military depot, Rawalpindi, explodes resulting in widespread destruction. The missiles and projectiles that rain down on the twin cities as a result of the detonation leave 30 dead, officials say, but independent estimates claim the figure is much higher. Prominent among those killed is Khaqan Abbasi, MNA from Murree.
---
Junejo out
May 29 Zia dismisses Junejo under article 58-2(b) of the 8th Amendment on charges of corruption, inefficiency and procrastination; no caretaker PM installed Zia dismisses Junejo under article 58-2(b) of the 8th Amendment on charges of corruption, inefficiency and procrastination; no caretaker PM installed
It is strongly suspected that Prime Minister Junejo has been sacked not because of his failure to enforce Islam, as claimed by General Zia, but due to a rift between the two over the Ojhri Camp investigations. The dismissed PM had promised to make the findings public, and seemed inclined towards acting against the military personnel responsible for the mishap.
---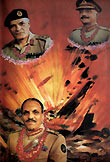 A commemorative poster.
Death of a dictator
August 17 General Ziaul Haq, after 11 years of absolute power, is killed in a mid-air explosion near Bahawalpur. The army's top brass, including ISI chief General Akhtar Abdur Rehman, is virtually eliminated with the exception of General Aslam Beg. US Ambassador Raphael was also on board the ill-fated C-130. Ghulam Ishaq Khan, Chairman Senate, takes over as President of Pakistan and General Aslam Beg, meanwhile, assumes charge as new Chief of Army Staff.
While the international media generally refers to the incident as the death of a dictator, and the followers of the Pakistan People's Party were seen distributing sweets soon after the announcement, there still are multitudes among the common people who mourn the man who ruled their country for 11 years.
---
People's power
December 2 After a strong showing by the PPP at the first party-based polls since 1977, Benazir Bhutto is finally sworn in as prime minister, becoming the first woman head of government in the Muslim world.But there were two bitter pills to swallow: her party had fallen short of an absolute majority, forcing the PPP to woo both MQM and the ANP, and the Punjab had been stolen from under her nose by the IJI. In her first address to the nation, she lifted Zia's ban on student and trade unions activity.
---
The new President
December 13 Ghulam Ishaq Khan takes oath as president

---
Sindh succumbs to violence
Following the Hyderabad massacre, violence has erupted on ethnic lines throughout the province. 78 were killed in Karachi alone on October 1, and the news from the interior is also alarming. The government, for its part, has set up tribunal headed by Justice Abdur Rehman of the Hyderabad High Court to probe into the killings, but nobody really expects the findings to be made public.
---
SAARC Summit
December 29-31 Pakistan, India sign 3 bilateral agreements during 4th SAARC Summit in Islamabad, including a pledge not to attack each other's nuclear installations; Indian PM Rajiv Gandhi addresses a joint presse conference with Benazir Bhutto.

Seoul Olympics
Mohammad Husain Shah secures sole Pakistani medal at the Seoul Olympics with a bronze in boxing.
---
PTV Glasnost
Under Aslam Azhar and Javed Jabbar, PTV policy undergoes radical change with a plethora of political plays, a barrage of anti-Zia propaganda and substantial coverage of opposition leaders. Dramas abound with anti-martial law tales such as those narrated in Neelay Haath, a serial based on a street play by the Ajoka theatre group, and Sarmad Sehbai's Bachon ka Park, a hard-hitting indictment of the Zia regime.