Jan 1 Pakistani cargo ship, Jhelum collides with Danish ship Cynthia near London
Jan 2 Basic Democrats vote for presidential elections
Mar Ayub receives warm welcome in China. Chinese diplomatic support against India anticipated
Mar 21 Basic Democrats elect National Assembly. West Pakistan is represented by a majority of feudal lords supported by the Convention Muslim League formed in 1962
Mar Nurul Amin elected Leader of the Opposition
Apr Pakistan, India engage in battles over possession of Rann of Kachh (see Jun 30)
Apr 16 The makers of Sangam (23.4.64) give Bahana, fisrt Pakistani B/W cinema scope; it stars Kaburi, Rehman and Garaj Babu
May Provincial assemblies elected
Jun 12 New Assembly holds 1st session; Abdul Jabbar elected Speaker, Chaudhry Fazal Ilahi Senior Deputy Speaker
Jun 30 Ceasefire declared in Rann of Kachh through the British premier's intervention; dispute to be settled by international tribunal (see Feb 19, 1968) Ceasefire declared in Rann of Kachh through the British premier's intervention; dispute to be settled by international tribunal (see Feb 19, 1968)
Jun Indian armies cross ceasefire line in Kashmir and occupy 3 passes in Targil
Jul 24 Secret guerrilla operation, Gibraltor, launched by Pakistan to liberate Kashmir
Jul 27 Operation Gibraltor fails
Aug Indian Army occupies Titwal and Haji Pir Pass in Azad Kashmir
Sep 6 Indian Army advances towards Lahore, crossing the international boundary without ultimatum. War between India and Pakistan begins (more on main page)
Sep 7 The Pakistan Airforce has shot down 53 Indian fighter planes so far, and after its successful defence of Sargodha today, it is assumed that Pakistan's superiority over air has already been established for the rest of the war The Pakistan Airforce has shot down 53 Indian fighter planes so far, and after its successful defence of Sargodha today, it is assumed that Pakistan's superiority over air has already been established for the rest of the war
Sep 19-20 President Ayub makes an ultra secret overnight visit to China, discussing war situation with Premier Chou en Lai who reassures Pakistan of support if the war is prolonged
Dec 3 Dacca-made Mala, first Pakistani color cinemascope film released; directed by Mustafiz and produced by him and Dossani it features music by Ataur Rahman and stars Sultana, Azeem, Irfan and Khalil
Dec 22 Pakistan's Atomic Reactor starts working Pakistan's Atomic Reactor starts working
Dec Pakistan and Canada sign agreement for assistance in setting up atomic nuclear power plant in Karachi
Obituary
A.R. Khatoon: novelist (Feb 24)
This is only the beginning
January. As results of presidential elections are announced, Fatima Jinnah loses with 28,345 votes against Ayub's 49,647. Mian Bashir Ahmad gets 65 and K.M.Kamal 183 votes. In a press statement issued on the eve of her defeat, Miss Jinnah says: "The system under which these elections were fought was initially devised to perpetuate the… incumbent of the Presidential Office. Neither does it provide room for the free expression of the popular will, nor does it conform to the known and established principles of democracy in the civilised world… There is no doubt that the elections have been rigged. I am sure that the so-called victory of Mr. Ayub Khan is his greatest defeat. The election campaign… was only the beginning of our march for the emancipation of the country from the shackles of an authoritarian rule. We shall, therefore, continue to work with renewed faith for the achievement of our destined goal and restore to the people their sovereignty which will usher in true democracy in the country."
---
Riots in Karachi
January 4. Ethnic riots erupt in Karachi as citizens protest against violation of Section 144 by President's son and Pukhtoon transporters, who took out a procession to celebrate election victory. Aggressors raid colonies in the night. Bloody massacres are witnessed, yet official sources claim only six dead.
---
3rd Five Year Plan
The Third Five Year Plan (1965-70) claims a 66% increase in the incomes in the previous plans. The plan also envisages a more equitable distribution of wealth in the future on the basis of the trickle-down effect of industrial growth.
---
Will there be war?
August. Hidden away from public eyes, Indian and Pakistani armies have been engaged in secret conflicts over Kashmir boundary for the past two months.
Following up the failure of Operation Gibraltor, the Pakistan Army has launched another offensive to hold back the Indian aggression in Kashmir. Operation Grand Slam, as it is called in code, seems to be gaining better results by diminishing Indian Army's supply line, which might help in the 'liberation' of Kashmir.
Will the fight end on these border outposts, or will there be a full-fledged war between the countries? Pakistan foreign office does not think the enemy is likely to invade.
---
People respond to war situation
Pakistanis put on a display of solidarity in the face of enemy aggression. Opposition leaders have pledged wartime support to the government, while citizens participate in various activities to support the defence of their country.
"We are at war": President Ayub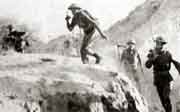 September 6. Ayub addresses the nation: "The hour of trial for a hundred million people of Pakistan has struck…
"A state of emergency has been declared. We are at war. Our brave soldiers have gone forward to repel the enemy… We are invoking the United Nations' Charter to exercise our inherent right of individual and collective self-defence recognised in Chapter VII of the Charter.
"My dear countrymen, in this hour of trial you have to remain absolutely calm. You must know that each one of you has to perform a supreme duty which demands complete dedication and devotion… Be prepared to strike and to strike hard; for the evil which has raised its head against your borders is doomed to destruction. Go forward and meet the enemy. God is with you..."
---
United Nations
September 20. UN Security Council calls upon India and Pakistan to cease fire
Read text of Security Council's decree
---
End of war?
September 23. India and Pakistan cease fire today. The war seems to be ending, but how long will it take before the two countries return to normal relations?
---
"We shall fight," says Bhutto
October 25. Addressing the UN Security Council, Foreign Minister Zulfikar Ali Bhutto has said: "We are fortified by the faith that, despite India's arrogance and obduracy, despite its flouting all canons of civilized conduct, despite the armed might which it deploys against the Kashmir's helpless people, this long-drawn-out tragedy can end only in the victory of the people of Jammu and Kashmir and in the vindication of the honourable position which our country and our people have taken... And I tell you,... we shall face complete extermination; we shall face destruction; we shall never dishonour our pledge. We shall fight by the people of Jammu and Kashmir, and we shall honour that pledge irrespective of what the Security Council does, irrespective of what the great powers do. This is a part of our faith; it is ingrained and enshrined in our very civilization... That is why we are able to face aggression from a country six times our size... We stand for a righteous cause; that is why we are brave. And finally, and ulyimately, whatever you do, we must triumph; we must succeed because justice is with us."
Actress attempts suicide after assault by "dignitaries"
February 12. Leading film lady Neelo is reported to be in critical condition after she swallowed an overdose of sleeping pills last night in Lahore. She was allegedly asked to dance in a cultural show before the Afro-Asian conference and when she refused she was assaulted by the organizers of the show, all reported to be "respectable dignitaries". Pakistan Film Producers Association and Pakistan Filmstars Association have voiced strong protest.
---
VIP flight kills 121
May 20. A PIA Boeing 720, carrying important personalities on its inaugural flight to Egypt crashes on Cairo killing 121 out of the total 127 people on board, including journalists from all leading newspapers.
---

Artist discovers passions
Shahid Sajjad sets off for the Chittagong Hill Tracts in East Pakistan, where he lives in the jungle with the locals and discovers his calling in life, sculpting the wood they bring him. (Contributed by Feroza Pastakia)
---
Indian films banned
September. Following the Indian invasion, all Indian films have been taken off the screen from cinemas in Pakistan and a complete ban on films from the enemy country imposed
---
War songs
Radio turns out to be a good morale-booster as uplifting war songs are being broadcast to citizens at home and soldiers in bunkers. Television is also doing its full although its range is limited. Crooners Noor Jahan and Mehdi Hassan seem to be leading the team, along with poets Masroor Anwer, Jamiluddin Aali, and many, many more…
Ay watan kay sajeelay jawano

Khitta-e-Lahore teray janisaron ko salam
---
Aziz Bhatti: a heroic death
September 26. Military awards are bestowed upon 94 soldiers for heroic services in the recent war. The highest award, Nishan-e- Haider, goes to Maj. Aziz Bhatti who was killed while defending BRB Canal on Sep 12.
---
Ghaffar Khan wants Pakhtoonistan
Abdul Ghaffar Khan, popularly kown as the Frontier Gandhi, has started campaign for "Pakhtoonistan," or cessation of the NWFP from his self-imposed exile in Afghanistan. He had left Pakistan earlier this year for medical treatment in London, and stopped in Afghanistan on his way back.
---
Motor Vehicles Ordinance
A new ordinance sets standards for vehicles, drivers and passengers. Silencers are mandatory for all vechiles while six monthly certification is mandatory for public vehicles, whose drivers and conductors must wear special badges. Emission of visible smoke, grit and oily substances and the use of multi-toned horns is prohibited and the passengers must not stand on bus footboards.
Songs remembered
Santosh and Sabiha star in Naila, one of the first color movies from West Pakistan.
Gham-e-dil ko in ankhon say (Naila)
Mujhe tum say mohabbat hai (Heera Aur Pathher)
Gulon mein rang bharay (Firangi)
Ho tamanna aur kiya (Aisa Bhi Hota Hai)
Challo achha huva tum bhhool gaye (Lakhon Mein Eik; not yet released)