Jan 1 States of Chitral, Dir and Swat merged into NWFP
Jan 2 Banaspati ghee 2.41 rupees per seer
Jan 3 Awami League leaders celebrate victory at the Ramma Race Course; pledge faith to 6 Points; map of Bangladesh displayed, carrying the word: 'Jai Bangla'Jan Yahya mentions Mujib as "the next Prime Minister of Pakistan" during his visit to Dacca
Jan 15 Quaid's mausoleum completed
Jan 27 Russia signs agreement with Pakistan to help construct Steel Mills
Jan 27 Bhutto visits Dacca to meet Mujib
Jan 30. Indian airliner Ganga hijacked to Lahore; hijackers alleged to be Kashmiri freedom fighters
Feb 14 Yahya announces NA will meet in Dacca on Mar 3 to prepare future constitution for country
Feb 27 Bhutto demands postponement of NA session
Mar 1 Yahya announces postponement of the NA session to "a later date"
Mar 1 Governor East Pakistan Admiral S.M.Ahsan, who refuses to open fire on the Bengalis if they go on strike, is replaced by General Sahibzada Yaqoob Khan
Mar 4 General Khan resigns protesting Yahya's refusal to visit East Pakistan; General Tikka Khan takes over as Governor East Pakistan
Mar 6 Yahya announces NA session for Mar 25
Mar 23 Pakistan Day is observed as "Resistance Day" in EP to protest against alleged atrocities committed by WP soldiers under Tikka Khan
Mar 26 Yahya's broadcast: outlaws Awami League, bans political activity in East Pakistan
Apr 9 General Tikka Khan is sworn in as Governor of East Pakistan although he has been serving in that capacity since March 4. It is said that up to now he could not find a judge in East Pakistan who should be willing to perform the ceremony
Jul 29 Bhutto meets Yahya to demand transfer of power in WP
Nov 21 Moderate Bengali elder statesman Nurul Amin appointed PM of East Pakistan; Bhutto refuses to become deputy PM
Nov 25 Negotiations start between Yahya and Bhutto for transfer of power to PPP after the war
Dec 6 India recognizes the government in exile of Bangladesh
Dec 7 Jessore, East Pakistan falls to Indian forces who now advance on Dacca
Obituary
Dr. Mazhar Ali:
religious scholar
(Jan 1)
Syed Muhammad Dehlvi:
religious scholar (Aug 20)


Bhutto and Mujib: the difference between the two wings
Idhar hum, udhar tum
February 22. Responding to the President's announcement that the new National Assembly will meet on Mar 3, the Pakistan People's Party leader Zulfikar Ali Bhutto has said: "We cannot go there only to endorse a constitution already prepared by a party, and return humiliated… We have a duty to those millions who elected us."
Mr Bhutto proposes that the PPP should control West Pakistan while the Awami League could rule over East Pakistan. He has also warned his newly elected delegates to the National Assembly that he will break the legs of any party member who dares to attend the March 3 session.
---
Striking out
March 1. Mujib declares six-day strike from Mar 3 to protest against postponement of NA session
---
Shut-down!
March 3. A seven-day strike has commenced in East Pakistan in response to Mujib's call issued two days ago. On the first day of the strike, two men are killed as several unarmed young men at Farm Gate are fired upon.
---
"There is still time for us to live like brothers" -- Mujib
March 6. An estimated million Bengalis flocked today at Race Course Maidan to listen to Mujib on the President's new announcement. "There is still time for us to live like brothers if things are settled peacefully," he said. "No one can stop us from realising our rights when we are prepared to lay down our lives."
---
Three's a crowd
Mar 15 - 24. Yahya, Bhutto, Mujib hold talks in Dacca without much success. Mujib demands transfer of power as a pre-requisite to attend the assembly
---
Mujib arrested; bloodbath begins
March 25. The Pakistan Army launches an offensive against Bengalis, beginning with the late night killing of students at the Dacca University campus. US Consul-General Arthur Blood cables Washington to report "mass killing of unarmed civilians, the systematic elimination of the intelligentsia, and the annihilation of the Hindu population."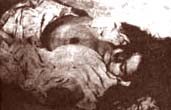 The foreign press reports the beginning of a genocide, involving the rape and slaughter of innocent civilians, while the Pakistan government claims it is fighting against militant Mukti Bahini separatists, who have committed atrocities against non-Bengalis.
---


Top: Businessman murdered by Mukti Bahini rebels in Jessore. Below: Pakistan Army soldiers on duty in Dacca.
Exodus
April. While the Pakistan Army claims to have established firm control over East Pakistan, forcing the Mukti Bahini back to their bases in India, a huge number of terrified East Pakistani civilians are also reported to have escaped across the border. Their numbers have already reached close to a million, and the massive exodus of refugees is estimated to remain at 50,000 a day for the next few months. Some leaders of the banned Awami League have also migrated to India, where they have set up a government-in-exile of "Bangla Desh".
Meanwhile, the Indian government is beginning to present the East Pakistan crisis as its own concern, because of the enormous cost of dealing with Bengali refugees.
---
November 21
India attacks East Pakistan
December 3
Pakistan launches counter attack on India
Green signal?

November. Indian Prime Minister Indira Gandhi's visit to the US is generally seen in Pakistan as a move to get the go-ahead from America for an invasion of Pakistan. Her farewell statement in Washington suggests she has got it: "Will the world be concerned if people die because of war between two countries and not if hundreds of thousands are butchered and expelled by a military regime waging war against the people?"
However, the inside story is different - even the two meetings between Mrs. Gandhi and the President Nixon became just short of strained due to the American opposition to any military option.
---
"We will fight for a thousand years": Bhutto
December 15. Bhutto, on a diplomatic visit to the US since December 8, made an agitated speech at the UN Security Council: "So what if Dacca falls? So what if the whole of East Pakistan falls? So what if the whole of West Pakistan falls? We will build a new Pakistan. We will build a better Pakistan… We will fight for a thousand years."
Afterwards, he tore up up his notes and walked out.
---
Dacca falls
December 16. Some 93,000 Pakistani soldiers are taken prisoner of war by Indian forces as General A.K. Niazi surrenders to the invading army in Dacca (right). What was formerly East Pakistan now stands as an estranged country. It is called "Bangladesh", a name still not acceptable to the Pakistan Government.
The president of Bangladesh is Mujibur Rahman, who is still in prison somewhere in West Pakistan where he is denied all information about the outside world. He knows nothing of the bloodshed that has preceded the creation of his state.
---
Yahya resigns; Bhutto steps in
December 20. Power has been transferred to President Bhutto, who is now also the Chief Martial Law Administrator and the commander of the armed forces.
---
Picking up the pieces
On returning from his diplomatic mission abroad, newly appointed President Bhutto addresses the nation on radio and television.
"My dear countrymen, my dear friends, my dear students, labourers, peasants… those who fought for Pakistan… We are facing the worst crisis in our country's life, a deadly crisis. We have to pick up the pieces, very small pieces, but we will make a new Pakistan, a prosperous and progressive Pakistan."
---

President Bhutto has appointed General Gul Hassan C-in-C of the Pakistan Army.
All the president's men
Zulfikar Ali Bhutto's second string is a quixotic mixture of urban middle class intellectuals and landlords. Among the front rankers are Dr. Mubashar Hasan, Mairaj Mohammad Khan, Mumtaz Bhutto, Ghulam Mustafa Jatoi, Sheikh Rasheed, Maulana Kausar Niazi, J.A. Rahim, Hayat Sherpao, Ghulam Mustafa Khar, Hanif Ramay, Dr. Ghulam Husain, Mairaj Khalid and Hafeez Peerzada.
Hijacked
February 4. Indian airliner Ganga, which was hijacked by alleged Kashmiri freedom fighters to Lahore, was destroyed today by the hijackers. They had released the passengers already.
---
No-fly zone
February. India has banned all Pakistani aircraft from flying over its territory in retaliation to the burning of an Indian airliner at Lahore Airport on February 4. It is feared that this move will lead to severe communications problems between the two wings of Pakistan.
---
The anguish of the Intercontinental
Mr Bhutto's visits to the Intercontinental Hotel where he stays during his trips to Lahore, are creating discomfort to other guests and the hotel management.
Villagers from the nearby areas flock to see him and sit in the hotel corridors all day until they are entertained as Mr. Bhutto's guests at night. At that time there is dance and music, and a matron who runs a stable of singing girls, always shifts to the hotel whenever Mr. Bhutto is about to visit Lahore.
The mujras go on sometimes till 4:00 am and the music can be heard at least two floor below.
One evening, the Australian manager of the hotel heard great commotion in the kitchen and found Mr. Bhutto standing on the kitchen table making a speech to the hotel workers. He was saying that the workers should make plans to take over the jobs in the hotel that they really wanted, for soon the hotel would belong to them.

Read secret airgram from the American Consulate, Lahore on the "Social habits and political methods of Mr. Bhutto"
---
Hockey World Cup
Pakistan wins the inaugural Hockey World Cup at Barcelona under Khalid Mahmood
---

PAF pilot awarded highest military award
August 29. Nishan-i-Haider is posthumously awarded to Rashid Minhas (right), 20-year old pilot officer who crashed own plane to prevent sabotage by Bengali superior Matiur Rehman on 20 August
---
Indus Gallery
Painter Ali Imam has opened the Indus Gallery in Karachi.
---
Diamond Jubilee
Dosti, released February 7, turns out to be the first Pakistani film to complete over 100 weeks (Diamond Jubilee). Produced for Punjab Pictures by Ijaz Durrani, who also stars alongwith Shabnam, Husna, Rahman, Saqi; music A. Hameed; direction Shareef Nayyar
---
By-elections announced for East Pakistan
September 18 Yahya has announced by-elections to be held in East Pakistan for seats vacated by Awami League leaders since party was banned. Constituent Assembly will be convened before year's end

Read secret report of the US Agency for International Development
Songs remembered
Naraz na ho to (Neend Hamari Khwab Tumharay)
Ik udan khatola ayega (Jane Bond 008)
Chitthi zara sayyanjikay (Dosti)
Kis naam say pukaroon (Gharnata)
Gudiya Japani (Khamosh Nigahein)
Sayoni mera mahi (Mastana Mahi)
---