| | | | | | | |
| --- | --- | --- | --- | --- | --- | --- |
| S | M | T | W | T | F | S |
| | | 1 | 2 | 3 | 4 | 5 |
| 6 | 7 | 8 | 9 | 10 | 11 | 12 |
| 13 | 14 | 15 | 16 | 17 | 18 | 19 |
| 20 | 21 | 22 | 23 | 24 | 25 | 26 |
| 27 | 28 | 29 | 30 | 31 | | |
1, Karachi. Pakistan Cricket Control Board established.
10, Dacca. Students demonstrate for officializing Bangla language

15, Karachi. Pakistan Muslim League separated from All India Muslim League
15, East Bengal. Three Calcutta newspapers banned in Dacca.
19, Karachi. In his interview to Robert Stimson, Correspondent of BBC, Jinnah says that His Majesty's Government has shown indifference to Pakistan. "I fully realize that Britain has no power to intervene in the affairs of any Dominion, but at the same time Britain and other Dominions are in a position to use moral persuasion to help settle differences between members of the Commonwealth." He says that the Pakistan Constituent Assembly will decide whether is to remain in the British Commonwealth of Nations or not, "but persially I have no doubts that Pakistan will be ready to to stay..."
22. Jinnah gives message to Pakistan Boy Scouts: "Despite the progress of civilization, the law of the jungle, unfortunately, still prevails... If we are to build a safer, cleaner and happier world let us start with the individual - catch him young and inculcate in him the scout's motto of service before self and purity in thought, word and deed."
24. Jinnah replies to the King of Yemen's thank you telegram for Pakistan's support to the Arabs on the Palestine issue.
24, Karachi. Jinnah receives El Shuraiki, Envoy Extraordinary from the King of Transjordan.
25. List of national holidays issued, including the Quaid-i-Azam Day
31. The issue of Kashmir taken to UN
Money matters
Wednesday 9, New Delhi. India and Pakistan sign an agreement about the cash balance and debts, according to which Pakistan's share of the cash balances and of the uncovered national debt should be 17.5 percent. The cash balance share comes to 750 million rupees, out of which 200 million have already been paid. References to the Arbitral Tribunal over this issue are now withdrawn.

---
Cash crunch
The newborn state is facing serious financial problems as India refuses to release Pakistan's share of the treasury. Mr. Patel's plea is that Pakistan will use this money for pursuing the war in Kashmir, but that sounds unfair because the war was already in progress when Mr. Patel signed the agreement in early December. Many government officers are without basic necessities; typewriters are luxuries not to be thought about as some of the employees have to bring thorns from trees and bushes for use as common pins!
---
Pakistan celebrates founder's brithday
Jinnah with his sister Fatima: a picture taken today
December 25. Quaid-i-Azam Mohammad Ali Jinnah's birthday was celebrated widely as a national holiday today. In Karachi, dignitaries were received at the Governor-General House, while telegrams poured in from across the world, including one from the US President Harry S. Truman.
The earliest records of Jinnah's birthday in his school register suggest October 20, 1875. Jinnah himself stated in a court in Karachi in 1896 that he was born in October 1875. However, from 1917 (when Sarojini Naidu wrote his first biography: The Ambassador of Hindu-Muslim Unity), Jinnah gave out December 25, 1876 as his date of birth. This date of birth has been carried on his passport and all other official documents at least since then and publicly celebrated by his followers for quite some years now. Since he is a man ferociously protective of his private life nobody knows, nor dare him ask, the evidence that led him to believe that the most important festival in the word was also his date of birth.
---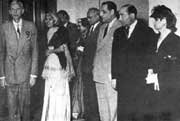 Luncheon at Governor-General's House, Karachi: Sardar Najibullah (2nd from right), Egyptian Charge-de-Affairs El Husseni Al Khatib (3rd from right), Mr. Zahid Husain (4th from right), Miss Fatima Jinnah (2nd from left) and Quaid-i-Azam Jinnah (extreme left).
---
Afghan representation
Thursday 3, Karachi. Sardar Najibullah Khan, special representative of His Majesty the King of Afghanistan in Pakistan presented his credentials to Jinnah today, and received his welcome.
The establishment of diplomatic relations with Afghanistan has its own peculiar importance for the newborn dominion of Pakistan. As heir to the British crown in the provinces of NWFP and Baluchistan, the Government of Pakistan is also the heir to the thousand miles long border with the unreliable Afghan country, and the unpredictable relationship with its King. Afghanistan is also the gateway to Asia for the formidable USSR. It was quite out of this consideration that the British fought many indecissive battles against the Afghans before deciding that they are their own best defenders against any possible Russian aggression.
---
Refugees in West Punjab
Thursday 10. Some 4.68 million refugees have arrived in West Punjab by now. Of these, 3.92 millions were moved by the Military Evacuee Organization, which was been set up in Lahore on August 28.