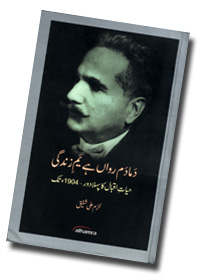 DAWN Books and Authors, January 4, 2004
Ghalib and Iqbal Dominate the Year
By Hasan Abidi
Iqbal Aur Insan Dosti, a book by Talib Hussain Sayal, begins with a quote from Iqbal's new year message of January 1938 which was broadcast by the All India Radio. "The survival of humanity on our planet depends on the principle of respect to all humans," it read. It went on to say, "As long as the world powers will not solidly concentrate their efforts on imbibing respect for all humans, the earth shall remain an arena of blood-thirsty savages fighting among themselves."

Never did these words ring as true as they do today. Looking at the growing popularity of Allama Iqbal's humanitarian message to the nations upholding the cause of peace, the writer Mr Sayal, believes that the new year will be dominated by publications on the great poet.

Some books published at the fag end of the Iqbal year (2002), caught popular attention in later months, such as Iqbal Shinasi by Dr Manzoor Ahmad (Idara-i-Saqafat-i-Islamia), which gave a new interpretation of Iqbal's works, challenging the stereotyped and stagnant scholarship on him. Another noteworthy book was Talash-i-Iqbal by Dr Mohammad Ali Siddiqui (Pakistan Study Centre, Karachi University).

Rahnaward-i-Shauq: Mohammad Iqbal, Hayat Aur Karnamey by Iqbal Singh (OUP), an Urdu version of the author's original English text with some additions, was another important publication of the year. Also based on the early phase of Iqbal's poetry is a treatise Damadum Ravan Hai Yam-i-Zindagi (Alhamra) by Khurram Ali Shafique. Afkar-i-Iqbal: Aham Goshay by Mohammad Afzal Hameed is also an important study on Iqbal and his poetic thought.

Ghalib's popularity keeps growing with the passage of time, posing a challenge to the writers to delve deeper into his fascinating poetry. Last year was no different and there was a spate of books on the 19th century poet. Ghalib: Nazar aur Nazzara by Dr Hanif Fauq (Idara-i-Yaadgar-i-Ghalib) is a collection of the author's research articles on the subject. Taabirat-i-Ghalib is another publication on the poet. It is a collection of papers by Dr Farman Fatehpuri.

An indepth study of the history of Urdu literature was Urdu Adab Ki Tareekh: from its origin to 1857, spread over 19 chapters describing the overall cultural and literary scenario of each period (Sang-e-Meel) written by Dr Tabassum Kashmiri.

Kuliyat-i-Yagana (Academy Bazyaft) by noted researcher Mushfiq Khawaja is a voluminous work on the life of a great poet mostly misunderstood by his detractors. Hakim Momin Khan Momin, a commendable effort on the poetry of this romantist par excellence (Pakistani Adab) was made by Ikram Barelvi better known for writing fiction.

In the area of literary criticism, there were mostly compilations of published articles occasionally with valuable additions. Adab Aur Rooh-i-Asr was one such valued book by the late professor Mumtaz Hussain, jointly compiled by the erudite author's daughter and Asif Farrukhi — a posthumous publication from Scheherzade.

Pas-i-Alfaz by Ahmad Nadeem Qasmi (Asatir) was a collection of Qasmi's articles written at different issues. Another publication of this genre was Mushaheday by Waziri Panipati, comprising his brief comments on literary topics, and Pakistani Adab, a selection of literary pieces compiled by Izharul Haq and Farrukhyar, was published by Adbiat-i-Pakistan.

Urdu Masnavian by Gopichand Narang, comprising Indian folk tales, published much earlier in India, was published in Pakistan by Sang-e-Meel.

Bardasht Key Kayi Chehray, (the many faces of tolerance) was a bilingual anthology based on a dialogue between Rumana Hussain and Harris Khalique, coming from Human Rights Education Programme, a noble effort in the making of a tolerant society.

Hudood Shikni Kay Khaab by the famous feminist writer, Fatima Mernissi, was a translation by Yasmeen Hameed and was published by Simorgh Resource and Publication Centre, Lahore. The book reveals the truth of "women's subordination".

Relevant in this context were the selective writings by women writers compiled by Khaleda Hussain, Kishwar Naheed and Aslam Farrukhi and published by Academy Adbiat-i-Pakistan.

Khamoshi ki Awaz was another compilation by Fatema Hasan and Asif Farrukhi (Wada Kitab Ghar) based on the deliberations of a seminar on feminist writings in Karachi.

Qurrat-ul-Ain Haider Ke Khatoot, 44 letters (including three in English) written by Ms Haider to Khalid Hasan spread over 17 years, compiled by the latter, were published by Aaj Publications. The letters written in a conversational style also carry some information of a biographical nature.

Dilli Jo Ek Shaher Tha by Intizar Hussain (Sang-e-Meel) is a socio-cultural history of Dilli (not Dehli) beginning from ancient times to the present, describing minor details occurring in the lifestyle and the spoken language of common people, a track-2 in history writing as one may say.

Only a small number of novels were written last year. However, Toofan Ki Aahat by Mushtafa Karim, a historical novel, entirely different from the so called hackneyed historical novels was received well with the readers. It portrayed the events which led to the war of Plassy in 1776. It was published by Scheherzade. Kaghzi Ghat, another novel by Khaleda Hasan (Dost Publications, Islamabad) is also different from traditional narratives.

Rahman Muznib Academy of Lahore published several volumes from the late fiction writer Rahman Muznib. Gulbadan and Khushboo Wali Gali from the author portray the life in the city's red-light area.

Kalank, the Urdu translation of Fauzia Saeed's Taboo, a research study on the life of a red light area, is an important sociological exposure. Fehmida Riaz translated it for Oxford University Press.

Two other novels, one Lahoo Phir Tapka by Anwer Ahsan Siddiqui (Ali Mian Publication, Lahore) and the other titled Choti Bai authored and published by Matin Ahmad Khan, are diametrically different from each other, the former presenting Karachi in the phase of its social decline and the other nostalgically recalling the pre-Partition non-sectarian city of Nagpur.

The lost and much lamented Lahore by Gopal Mittal provided lasting images of the city before the Partition (Book Home).

Lagan Apni Apni by Bano Qudsia, Internet Cafe by Najmul Hasan Rizvi, and Andhi Ke Pattey by Shamshad Ahmad were some story collections of the year.

The biography of Hakim Ajmal Khan by Intizar Hussain (Sang-e-Meel), Apna Gareban Chaak, the autobiography of Dr Javed Iqbal (again Sang-e-Meel), a biographical sketch of the noted story writer Mumtaz Mufti (Ferozsons) and Deeda-i-Beena, personality sketches by Nazrul Hasan Siddiqui (Scheherzade) were some prime publications of the year.

A detailed account of Halq-i-Arbab-i-Zauq: Khad-o-Khal, a biography of a literary organization was written by Agha Baber and published for the benefit of the literary historians.

Taqseem-i-Hind aur Bahadur Shah Zafar by Abdur Raman Siddiqi was an attempt at re-analyzing history through eminent characters in an allegorical form.

Salasil (an abridged Urdu version of Alex Haley's monumental novel, Roots) was a courageous attempt by Anwar Fatema Jafri, (Academy Bazyaft). Shahid Hameed proved his mettle as a translater introducing to Urdu readers some major classical novels from Gorky, Tolstoy, Victor Hugo and many others, apart from the famous War and Peace and Pride and Prejudice, some years back. Bada Aina and Dhoop Mein Log, translated from the Arab writers of Morocco and Palestine, by Shahid Hameed and published by Scheherzade, introduced to the readers the freedom struggle of the Arabs against the occupying forces of Israel.

The largest number of publications in Urdu was in the form of poetry collections. Yaani, a collection of ghazals by an erudite poet Jaun Elia, was in much demand last year.

Doha, originally a Hindi poetic form got currency with Jamiluddin Ali's Dohay, followed by another famous poet Ilyas Ishqi bringing out Doha Hazari (Idrak Publications).

Maulana Jalaluddin Rumi's poetic wisdom translated into Naghmay by Zafar Azam was received well among many poetry collections (Liberty Books), so were the poetry collections Ghazal-i-Dasht-i-Sagan by Khalid Alig, Ravish-i-Baad-i-Saba by Mehdi Ali Siddiqui and Munfarid by Rafiq Jabir. The last three poets brought out their nascent poetry collections after decades of writing poetry, unmindful of the usual longing for self projection. Azab-i-Hamsaegi by Faza Azmi (Javedan), a long poem with political overtones, was also received well.

Shabnama Aur Doosri Nazmain, E-mail Aur Doosri Nazmain, and Jang Ke Dinon Mein by Zeeshan Sahil (Aaj ki Kitabain) were thematic poetry collections with modern diction. Many other poetry collections from several poets, however, poured in only to receive a cold reception at the sales counter.
---
Also based on the early phase of Iqbal's poetry is a treatise Damadum Ravan Hai Yam-i-Zindagi (Alhamra) by Khurram Ali Shafique.
---