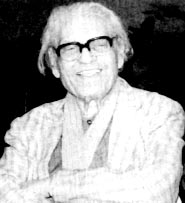 THE HERALD, December 1996
OBITUARY: ZIA SARHADI
The Last Reel
---
This obituary received a generous input from Talat Aslam, the Editor (not credited in the printed version)
---
When you call somebody a living legend, how do you describe their death?
Zia Sarhadi, the man who gave us memorable films such as Humlog (1951) and Footpath (1953), lived in virtual oblivion after his misfortune with the Pakistani film censors in the late '50s. He passed away in Madrid last month, having spent the last 15 years of his life in self-exile in London.
Born in Peshawar in 1914, Zia began his film career in Bombay when his friend Mehboob Khan asked him to write the screenplay, dialogue and songs for his Sagar Movietone venture, Deccan Queen. Quite contrary to the social realism Zia became known for in his later days, this debut film was an action thriller. However, it was Manmohan (1936) which actually brought him to fame. Besides acting in the film, he also wrote the lyrics, story, screenplay and dialogue. Over the next 15 years he received the writing credit for such films as Jagirdar, Kal Ki Baat (1937), Jeevan Saathi (1939),Sajan (1940), Behan (1941), Ghalib ((1942), Badi Maa (1945), Elan (1947), Anokha Pyar (1948), Dil Ki Duniya (1949), Khel (1950) and Baiju Bawra (1952 – dialogue only). Among the films he directed were Abhilasha (1938), Humlog (1951), Foot Path (1953) and Awaz (1956).
Humlog, one of the finest movies of the 1950s, was a great success. Unfortunately, his other films were not box office hits, but in terms of quality, all three left a lasting impact on the tradition of parallel cinema.
Zia was an "unaffiliated Marxist" and his films were known for their social themes. Moving to Pakistan, therefore, proved creatively stifling for his committed and restless soul. Rahguzar, his first movie in this country, turned out to be the last that he ever directed. By the time he could complete it, General Ayub Khan had imposed martial law in the country and the compromise with the censors shattered him. Those who have watched it are unanimous that it is still a very fine movie, but the hassles with the censors ensured that Zia never took up the megaphone again. However, he did write dialogue occasionally. Most noteably for the celebrated Lakhon Mein Eik (1966), directed by Raza Mir. His other credits include the ambitious commercial disaster, Aftab Manghi's existentialist action movie, Shehar aur Saye and the outrageous cult classic, another film plagued by censor problems, Rangeela's Aurat Raaj.
The third martial law, imposed by his namesake, was the final blow. The last straw came when he was picked up by the army and kept in solitary confinement in terrible conditions. The charges against him were sedition and an inclination towards Marxism. He left the country to settle in the UK, where he supported himself by working mainly on assignments for the BBC.
With a lifespan of 82 years, Zia was only truly productive for a mere 20 years. Others such as Manto, Faiz, Quratul Ain Hyder have been able to withstand the tyrannical oppression of social factors and still produce their best. A future biographer of this fascinating personality would, perhaps, be able to tell us why Zia Sarhadi was different…
---
Zia was an "unaffiliated Marxist" and his films were known for their social themes.
---