DAWN The Review, September 2000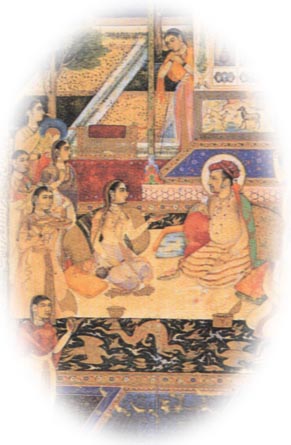 Nurjehan
Sharing a husband with seventeen other wives and several hundreds of slave girls is far from the romantic picture of an all-encompassing love that frames the portrait of Nurjehan in popular stories. However, the fact remains that she was indeed loved by her royal husband in ways unusual for those days -- she remains the only queen in the history of Muslim India, and one of the only two in the entire Muslim history, whose name was struck on the coin alongside that of the emperor. Nurjehan ruled not only over the heart, but also over the empire of Jehangir, and these were two very difficult territories to keep under control. For the heart of Jehangir was just as much full of contradictions as the kaleidoscopic country of India. To keep him happy and India peaceful were both jobs for a statesman, and the historians have rarely failed to accuse Nurjehan of being shrewdly power-hungry.
What male historians conveniently forget is that without Nurjehan the reign of Jehangir couldn't have lasted as long as it did. Jehangir owes his long years of a peaceful rule to Nurjehan just as much as he owes his ill health and frailty to his habit of alcohol abuse.
It is said that Jehangir first set his eyes on his future wife as a young prince overlooking the River Ravi from one of the towers on the Lahore Fort. Nurjehan, who was plain Mehrunisa at that time, was boarding a vessel and the prince was told that she was the daughter of Ghias Beg, an officer at Akbar's court and an immigrant. Later, the prince made an advance towards her, daring to take her in his arms. She ran away and complained to her parents. The incident was brought to the notice of Akbar through his own spies, and he arranged the marriage of Mehru with a Turk Ali Quli Khan Istajlu. For all we know, the marriage took place with full consent of the bride. Two years after his accession, Jehangir sent his envoys to Ali Quli Khan, who had meanwhile earned his famous title Sher Agfun, or the Lion-killer. The envoy demanded that Shar Afgan should send his wife to sleep with the emperor. It was not an unprecedented practice in any of the monarchies in history, but Sher Afgun lost his cool and attacked the envoy. They both got killed. This was first recorded by Khafi Khan many years later. He gathered most of the information about Nurjehan from a friend of her father, and therefore his case is quite strong.
The emperor's own version, by no reason entirely reliable, is that the envoy was sent to investigate charges of treason against Sher Afgun. Jehangir makes no mention of his first meeting with Mehru and historians who like to believe the official version also believe that Jehangir had never seen the lady until on the New Year feast 1611, four years after her husband's assassination.
There is another, folklore version of the story too. In it, Mehru and Salim appear madly in love with each other in their younger days, and Akbar ordering the marriage of Mehru against her will. This version included the famous incident at Meena Bazaar which is supposed to have started it all: the prince asked her to hold his pigeons while he went away to attend some important business. When he returned, he found one of the pigeons missing and Mehru told him it had flown away. When he asked how, she simply let go the other one!
Whatever maybe the case, Mehru and her daughter Ladli Begum were taken to the Mughal capital Agra after Sher Afgun was murdered. Jehangir didn't allow them to join Mehru's father Ghias Beg, and instead arranged their lodging with his stepmother inside the Fort. In any case, Ghias Beg had fallen out of favour since his support of Prince Khusro, Jehangir's son and rival to throne. Beg's son Sharif had just been executed on the same charges, and the only hope of the family was the cunning Abul Hasan, now the only living son of Beg. He had managed to remain in the good books of the Jehangir, who, not long afterwards, betrothed his third son Khurram with Hasan's daughter Arjumand Bano. The marriage took place four years later, a little after Jehangir's own marriage with Mehru in 1611. If we are to discard the story of an early romance between Jehangir and Nurjehan, then the possibility of Abul Hasan playing a major role in getting the emperor's attentions for his sister cannot be overlooked. In any case, Mehru first earned the title of Nurmahal (Nur-e-Mahal, or the Light of the Palace). A little later, Jehangir proclaimed her a partner in his powers and gave her the title Nurjehan (Nur-e-Jahan, or the Light of the World). This was a unique title, combining the two royal titles of the emperor, Nuruddin and Jehangir.
Apart from her unique administrative measures, Nurjehan has been credited with several innovations in the realm of fashion and decoration too. One such custom that is still current in India and Pakistan is the white floor cloth commonly known as "chandni." She also gave currency to light and delicate jewelry, most of which would be designed by her own hand (yet another passion she shared with Jehangir, who was known for designing the handles of his own daggers.) The thrust of Nurjehan's innovation was on providing something that could be used by the rich and the poor alike.
Nurjehan was also a poet, and used to the pseudonym "Makhfi" (the veiled one). yet only a few of her verses have been recorded in history, and it is very unlikely that she ever compiled a divan.
Nurjehan complemented Jehangir's shortcoming in so many ways. She had a perfect balance between mind and heart, something Jehangir could never learn. The extent of her influence on Jehangir has become proverbial now, and hardly needs to be mentioned in detail. What remains understated in history is how the gatekeepers of a patriarchal order reacted to this influence. Gallant men of the Mughal Age resented taking orders from a woman, since now each imperial commandment carried the additional inscription of "Badshah Begum." Once, when Nurjehan hunted down four tigers with four consecutive shots, a rare feat, a poet anonymously came up with this ironic couplet to grace the queen: "Nurjehan gercheh bazahir zan ast/Der saf-e-mardan zan-e-SherAfgan ast." The pun cannot be translated into English, but the second line could mean both "the woman who kills tigers," and the "woman of Sher Afgun." The chauvinists of the age found their champion in the shrewd Prince Khurram, whose chances of inheriting the throne were threatened with his younger brother Shahreyar's marriage in 1620 to Nurjehan's daughter Ladli, born of Sher Afgun. Khurram stood up in 1622 in a four year long war to depose his father but was defeated by the formidable imperial armies.
The uprising of Mahabat Khan, in 1626, yielded more disastrous results. Mahabat Khan had the impunity to tell the empire in no ambiguous words that it didn't befit a man to become subordinate to a woman. Finding his advice insufficient to move the emperor, he then took the unprecedented move of hijacking the entire imperial court along with Jehangir and Nurjehan. The imperial power remained a hostage to him for nearly a complete year until Nurjehan raised up a secret army to free her and the king from the usurper's power. Mahabat Khan then fled and joined Khurram.
Jehangir died soon afterwards. Shahreyar stood up as a claimant to the throne, apparently with full support of Nurjehan, but at this point Nurjehan was outwitted by the one man who was more cunning than her: her brother Abul Hasan, who had by then received the title Asaf Khan. Asaf Khan obviously wanted to secure the throne for his own son in law, Prince Khurram. Shareyar was rooted near Lahore and put to death along with every other male member of the royal house on the orders of Prince Khurram, now Emperor Shahjehan. Nurjehan was allowed to live near the tomb of her dead husband along with her widowed daughter Ladli. She was granted a pension of Rs. 200,000 from the king, which was quite a generous amount for the times -- stinginess was one vice that Shahjehan could never be accused of.
It is said that Nurjehan supervised the construction of the tomb of Jehangir, who was buried, in her garden Dilkusha at Shahdara. Always aiming at originality, she made sure that there were no domes and curves in the building, thus making the tomb stand out as strikingly different from any other building of the same category.
Nurjehan had ruled over India for nearly sixteen years. She lived afterwards for another eighteen. Yet we know almost nothing about this long period of her life. We have a general information that she never wore any color except white after Jehangir's death, and that her days were spent in extending charity to the needy and the poor. However, there is one powerful testimony to the state of her mind in those days, and to her general character. It is her tomb.
Nurjehan spent several years on perfecting the design of the building that would carry her presence to the posterity. The several pillars of the building created a mystery around the cenotaph. The actual burial chamber, as in so many other royal monuments, was underground. But Nurjehan made one innovation: she was not to be buried in dust. She ordered that her coffin be should be left hanging from the roof of the burial chamber. But the most eloquent feature of her mausoleum was that it was to remain without flower-bearing plants or the regular nightly lamps. Both are symbols of amorous love, and love had never been a good omen for the unfortunate Mehrunisa. The end of her journey was described in a subtle Persian couplet, chosen by her as an inscription on her tomb: Ber mazar-e-ma ghariban, nay chiraghay, nay gulay/ Nay per-e-pervaneh souzad, nay sada-e-bulbulay. "On the tomb of we the solitaires, no lamp and no flowers. Neither does the wing of a moth burn here, nor is there the chirping of the love bird."
Nurjehan was born in 1577, near Qandahar. She died near Lahore in 1645. She had led an eventful life but history, mostly written by men, never took a detour to look into what lessons she might have learnt from her tenure in this world. Her life calls for a fresh study from a woman's perspective.
---
What male historians conveniently forget is that without Nurjehan the reign of Jehangir couldn't have lasted as long as it did.
---