DAWN The Review, c.1997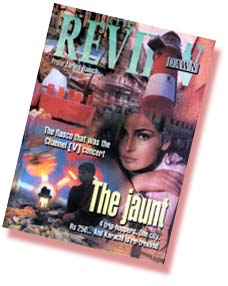 Inner Circles
Our aim was to have two meals, refreshments and good fun for three people in Rs. 250 (the three people mentioned here were myself, and a certain Adnan Kazmi and Imran Marufi.) We took it up on one not-so-fine Karachi afternoon and started from the Karachi University (how we got inside is another story altogether, but we're all old students anyway).
The Kashmiri hotel is a good inexpensive place. From the inside it looks like a makeshift road-side hotel that could be located anywhere from Thatta to Khyber (the view of the outside world from the small door also afforded a partial glimpse of three-tops while the chirping of the birds in the quiet completed the illusion of rural Pakistan).
We were joined by two other friends just for the lunch, and it all totaled up to Rs 45 – never mind the missed cold drink: we took lemon juice, or something that looked like it, from outside the Jubilee Gate of the University at Rs 3 per glass.
"Where to go?"
"Let's first sit down at a place from where we could get some green tea…"
This turned out to be the New Persian Restaurant at Bahadurabad, where the rates are comparable to those at the Kashmiri Hotel. After tea, cold drink (Imran was feeling hot) and a long discussion it was finally decided that Boat Basin was too posh, Tariq Road too uninteresting, Manghopir, Manora and Thatta too far away (it was already past five in the evening) and the red light area no place for nice guys like us.
"Clifton?"
"What's there to be seen that we haven't already?"
"That's what we can explore…."
Thus, we took Safari Coach from Shaheed-e-Millat Chowrangi.
The tomb of Abdullah Shah Ghazi is identified with two historical personalities. It is either Abdullah bin Nafas-e-Zakia, the mystic son of a second century revolutionary (this is the writing on the wall) or Ubaidullah, a first century Arab general who invaded Sindh before Muhammad bin Qasim (this is a lesser-known tradition).
The parakeet, or their predecessors, are there at least since my childood (I'm not going to say how long ago was that) and so I dutifully threw in a small (currency) note in the box dedicated to the funds for their keeping.
The view of the sea from the window just behind the grave enclosure is something I always like, especially around sunset; the best things in the world come free.
The natural spring outside the tomb building is another interesting place. The small enclosure built around it creates an atmosphere of grace and mystery, which I like very much. The spring is said to be a gift of the saint. Of course, you have to take your shoes off, just like at the tomb itself (and that kept Adnan outside both these places, since he thought the condition of his socks would not make him very convincing as the most handsome chap in town).
The shops outside the mazar compex provide good refreshments: til kay luddoo and makhanay were our favourites.
Then came back the issue of having something to drink. The solution was provided by Qaseem Khan, proprietor Masha Allah Baraf Depot on the main road; gannay ka rus (and you know the usual rates, I think, I shouldn't bother you with more statistics).
As we were walking towards main Clifton, we noticed Khuda Bakhsh Chaudhry. He runs a fortune-telling stall on the roadside, with a parrot and a bunch of while envelopes. With him we exchanged a five-rupee note for certain vital and crucial information about the future of our friend Adnan, which was that he should adopt a policy of patience and patience, and beware of women. "The woman who professes love to you is a fraud," told the oracle.
"So, will you include an article on sexism in fortune-telling in your series on women studies?" Adnan asked me.
At the main Clifton we were joined again by Imran. (Oh, I forgot to mention he went away from Bahadurabad since he had a small personal business to attend to). He had brought his motorcycle, and that raised the other important issue of parking and keeping an eye. This time we were rescued by Niazullah from Mardan. He deserves a little mention here. He runs the parking lot near Jahangir Kothari Parade, with some assistance from his brother, who is about the same age. As for his own age, he refused information on the grounds, "I have no record of my age; I am just a human being, and that should be enough for you."
This should not give you a bad impression of Niazullah's memory, which is excellent at remembering Indian songs (more of which will come later). As for his age, we estimated it at around twelve.
At this point we shared our bits of information about main Clifton with each other. There are three important landmarks. First, the Jahangir Kothari Parade which includes the whole stretch of brick floor from the cold drink corner on our left to the dome-like promenade on our right. Then there is the promenade itself best remembered from the films of Waheed Murad (1960s). Last, but not the least, there is the jetty called Lady Lloyd's Pier built by Sir Jehangir Kothari for Rs 3 lakhs in the 1920s and donated to the people of Karachi.
Past the Shree Ratneswar Mahadesh Temple we descended the pier, (which afforded a superb view of the sea), and turned left to enter Funland. (More refreshment outside – you can pick up good bargains if you have a sharp eye for the cheaper stuff – at your own risk!)
There was no resisting the temptation once near those huge machines – we tried that mega-swing they call The Pirates (all three of us), the roller-coaster named Tornado (all three of us), the child's play called UFO (Imran and Adnan) and the merry-go-round called Music Bob (only Imran – the other two of us found it nauseating). One wonderful observation we made this time was this: standing inside the ring when Music Bob or UFO goes into action is at least half as thrilling as the ride itself (and we didn't find it nauseating either – of course, there are certain precautions you must observe while thrilling yourself in this manner. No. 1 : Keep at a safe distance outside the orbit. No. 2: This is no place for children and extra-restless adults. No. 3: Behave yourself (at least when) you're there.
For the evening meal we had to go back to Abdullah Shah Ghazi. Mama Pakoray House was good. They had a special package: you pay them ten rupees and they'll feed a poor man on that count. "And how much will it cost us to feed ourselves?" (We suddenly realized that we'd spent ninety rupees on Funland tickets and that had left us quite poor).
The fish was Rs 30 for 250g roti at the usual two rupees. Plus some pakoras for another five. Not bad.
Of course, we missed our dessert. This was compensated up to an extent by Niaz ali: he charged Rs 5 as the parking fee and volunteered to enter into a singing competition with our own friend Imran (the parade was quite deserted at that hour, i.e., nine o'clock).
Imran, who was informally declared the Antakshari champion 1996 at the University was perplexed to find that the 12-year-old "chowkidar saheb" (a term Niaz Ali prefers over "parking boy") remembers by heart the entire Raja Hindustani/Dil Jalay C-60 cassette.
"Which Bond film was advertised with the caption: Has James Bond finally met his match?" Adnan asked me.
"A View To A Kill", I replied instinctively, but I knew he wasn't talking about James Bond.