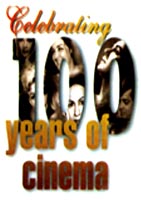 DAWN Tuesday Review, Nov 14-20, 1995
The Director's Cut
The director holds the central position in a picture. Although 'author' is a legal title referring to the financing organisation (mostly a studio) yet most critics, especially belonging to the "auteur" school of thought, would study films as creations of their directors ('auteur' is the French for author). Auteur critics maintain that a comparison of several works by the same director always reveals strands of thought that remain understated in isolated studies. We know that this is not always true as sometimes another member of the team (such as the producer, or a clever actor) may have more influence on the production. However, the theory holds weight as a general truth. For instance, if the films of Hitchcock are compared with each other then themes such as his ambivalence to women becomes evident. In his films (The Thirty-nine Steps, Saboteur, Psycho, The Birds, etc.), blondes are subjected to various forms of degradation -- being hand-cuffed to a man, being slashed to death in a shower or having their faces pecked by attacking birds.
This kind of study has not been done extensively on the directors of India and Pakistan. Only recently has there been some work on Mehboob, the director of such films as Andaz (1949) and Aan (1952). But that is just a drop in the ocean.
In the films directed by Subhash Ghai the themes of strained relationship between two friends recur frequently. These are Dilip Kumar - Shammi Kapoor in Vidhata (1981), Dilip Kumar - Raj Kumar in Saudagar (1991), Sanjay Dutt - Jacky Shroff in Khal Nayak (1993), and so on. But also noticeable is Ghai's typical use of a simple, rather childish theme song to highlight the main storyline in the film -- hence "Imli ka boota, beri ka payr" in Saudagar, or "Jagmag" in Viddhata.
What we may get out of such a study of Indian and Pakistani directors may not be only the hidden corners of the mind of the director, but also series of cliche techniques used by a director again and again. While the western directors try to grow out of their previous artistic achievements with each new venture, our directors find it difficult to invent a fresh grammar for every new film.
Looking at the Pakistani scene, things are not as hopeless as one may generally assume. There have been clever directors. To name some: Shaukat Husain Rizvi, Kardar, Pervaiz Malik, Nazrul Islam, Hassan Tariq, Raza Mir, S. M. Yousuf and these days, Syed Noor. Shamim Ara also made a valuable contribution if one could forgive her making too many movies around the same storyline.
Let's pick up Nazrul Islam and Hasan Tariq for a brief study. He has been blamed for plagiarism but then who is not? Dilip Kumar once said, "We all steal, but some of us do it more cleverly." I am not presenting a case for plagiarism but I would like to point out that Nazrul was a clever director. Even a film like Aina (1977), which was certainly indebted to at least two Indian movies (Aandhi and Aa Galay Lag Ja) retains a touch of class and an excellent degree of coherence. In fact it is one of the best examples and rare examples of brevity of plot in Pakistani cinema. Also, Nazrul deserves some praise for depicting the rape scene in his last movie Khwahish (1993) in a manner that does not defeat its message by exploiting the trauma of the hapless victim in order to tantalise the audience. Again, a rare practice in Pakistani cinema.
A recurring feature of almost all Nazrul movies is a sensational treatment of female sexuality without being too vulgar or too explicit -- since one can't be very explicit in Pakistani cinema, many lesser directors substitute sexuality with sheer vulgarity. A very common motif in a Nazrul film is a woman soaked in water. In Aina (1977), Shabnam is discovered asleep in her bathtub whereas in Nahin abhi Nahin (1980) she is alone in a public park amid heavy rains when Arman first sees her. Interestingly, the famous song rendered by Mehdi Hasan, "Teray bheegay badan ki khoshboo say" also came from a Nazrul film, Sharafat. Other filmmakers of India and Pakistan have also exploited similar situations but what is different about Nazrul's films is that here the water appears either at the beginning of a love relationship or with grave importance at some other remarkable point in the story -- treated almost like a fetish.
Two other important features of Nazrul are his use of music to carry the story forward and his celebration of the city. Who has ever seen Karachi more beautifully filmed than in those song sequences in Nahin Abhi Nahin.
The films of Hasan Tariq are different. First, they lack in refinement, for instance as compared to Nazrul Islam. Second, they have a more than generous share of choreography. It seems as if Hasan Tariq discovered a formula for presenting an entire story through eight dances. Usually there are one or two dances in the beginning which introduce the main characters. In Anjuman (1972), there are two, each introducing an important family from the plot. Subsequently a separate dance sequence marks the commencemnt of each new phase in the development of the plot (such as problems, crisis, resolution and climax). No wonder Rani features in almost all Hasan Tariq movies: Shama Aur Parvana (1972), Laila Majnun (1973), Umrao Jan Ada (1974), Ik Gunah Aur Sahi (1975), Suraiya Bhopali (1977), etc. Rani was also his wife for some time in her life. It seems as if the pattern of Hasan Tariq movies evolved with the discovery of the choreographic talents of Rani. His earlier movies such as Kaneez (1965), Devar Bhabhi (1967) and Maa Beta (1968) are essentially different from his later movies.
Another interesting pattern which emerges through a comparison of Tariq movies is "love triangle," usually with one woman. Tariq must have explored more varieties of this technique than any other director. Even in his rendering of the traditional story of Laila Majnun the role of the Iraqi prince (the rival) is more emphasised than it is in any other version of the story. Another complexity that Tariq seems quite fond of is "double triangle" -- this occurs in films like Shama Aur Parvana and Naag Aur Nagin whereas in Anjuman there are "multiple triangles" -- first triangle: Sabiha, Santosh, Rani; second triangle: Santosh, Rani, Waheed Murad; third triangle: Rani, Waheed Murad, Deeba. In multiple triangles the first character in each set loves the second who in turn loves third while the third character loves someone else (member of a different triangle) and this complication serves as the essential skeleton of the story. Resolution comes about by taking away (either through death or through some other device) the character who was appearing in all triangles. With him/her missing, the "triangles" naturally reduce to "pairs" of characters with mutually happy relations!
Of course this study could not include all directors who deserve our appreciation and attention. This is due to limitations of space. But one thing that emerges from this scrutiny is that good directors have a mind of their own which manifests itself through several films (quite often through all films). Even when they "borrow" from others' works they "borrow" only that which fits their own paradigm and retain the integrity of their idea one way or the other, whether consciously or unconsciously. That is the mark of a director and it can be seen even in Pakistan.
---
This is the fourth of a five-article series on the subcontinent's cinematic culture. The fifth article on some of the issues of the Indo-Pakistani cinema follows next.
---