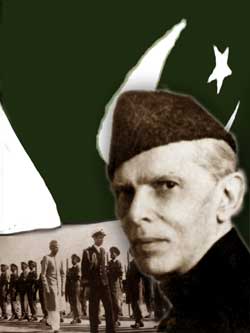 DAWN The Review, August 9, 2001
The '15 August' Controversy
"August 15 is the birthday of the independent and sovereign State of Pakistan," said the Quaid-e-Azam inaugurating the Pakistan Broadcasting Service on 15 August, 1947. He had been sworn in as the Governor General of Pakistan, just a few hours ago. However, a year later, the government decided to celebrate the Independence Day on 14 August. They had a good reason to, since the last British Viceroy Lord Luis Mountbatten had left Karachi on 14 August 1947, after announcing the King's message that the country was "about to become independent." Quaid-e-Azam's message to the nation on 14 August 1948 (when the Independence Day was suddenly announced a day earlier than expected), included a subtle but firm justification: "A year ago complete power was transferred to the people of Pakistan, and the Pakistan Government, under the present Constitution as adapted, took over charge of the affairs of the country in its own hands." Celebrating the Independence Day on 14 August also gave Pakistan an edge over India, who was celebrating its independence on the 15th.
Indeed, many nations across the globe have chosen their independence days for symbolic rather than historic values. The American War of Independence lasted many years and the Americans could have chosen from any of the several important days to mark their independence. The same with France. If Pakistan had wished, it could have chosen 23rd March as its Independence Day and claimed that it was on that day in 1940 that the nation mentally became "independent" by getting rid of the vision of a united India! Hence we can say that the decision of the Pakistani government in 1948 to celebrate its Independence Day on 14 August was not a distortion of history but merely an attempt to boost the morale of the nation.
However, what was a shameful distortion was the whole bundle of historical fallacies perpetuated by another government fifty years later. As the nation was celebrating its Golden Jubilee in 1997, the entire drama of independence was re-enacted on the electronic media telling the nation that the historic "midnight" when independence was granted to Pakistan and India occurred between 13 and 14 August. The Pakistan Television even played a new recording saying, "This is the midnight of 13 and 14 August 1947," (or something to that effect), and gave an impression as if that was an authentic relic taken out from archives. There could be nothing more shameful for a nation than to lie on such a grand scale about its very birth! It would be interesting to find out if any other nation in the modern history has been insulted by its government the way the Pakistani nation was insulted by the regime of Mr. Nawaz Sharif in the name of the Golden Jubilee celebrations.
---
"August 15 is the birthday of the independent and sovereign State of Pakistan," said the Quaid-e-Azam...
---