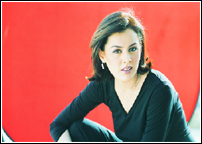 DAWN Images, December 29, 2002

Rising Star: Flowing With the Tide

Amber Khan is happy in her life. Does she think she can achieve anything she sets her heart to? Perhaps. At least, that is pretty much how her life has gone so far. Along with her husband she runs AMI, a reputed enterprise in public relations, media strategy and event management. Her portfolio is quite impressive as the clients include many well-known multinationals. However, Amber Khan is best known to the masses through her appearance on the television as a host and anchorperson in such programs as BMN's market news, and Indus Vision's Grapevine. Amber and Imran also produced and hosted a very interesting program on indigenous cuisine of Pakistan called Tuck A Truck. They took their viewers to various remote places of Pakistan and introduced them to the foods and flavours of those regions. Currently, she is working on An Evening With A Star with Sultana Siddiqui, again a show with a lot of glamour. What next? Yes, you guessed it right. She is planning to appear in a serial by a well-known writer.

"Actually I have been approached in the past, once with an offer that was hard to resist," She admits. "However, at that time I was too busy with my other commitments to fulfil my long-held desire of doing a serial." That is true, and almost irritating about Amber Khan if you are interested in her as a celebrity: she places too much importance on her family life. She speaks of it with a reverence that could easily get on the nerves of a fan who is expecting to hear more of her adventurous side. To her, work means mostly her public relations firm rather than the glamour and glitz of the mini-screen.

As compared to other showbiz people, Amber's life story is quite smooth. She was born to a set of parents who were both Capricorn, although her mother was more of a go-getter than her father who played a rather cool, laid back person. She got admission in a medical college, which was what her mother wanted of her, but Amber had already set her heart on studying abroad. True to her claim that she usually gets whatever she aims at, she went ahead to Texas with the full support of her family and obtained a bachelors degree in biomedical engineering. On her return she shifted to Karachi where her family had moved by then, and started working for a multinational company that specialized in supplying medical equipment. That did not quite sound like biomedical engineering in the true sense, though. "I got bored selling three X-Ray machines in a whole year, which is usually the extent of the hospitals' purchasing capacity here," Amber says. "I decided to apply for a job in a personal relations firm, and I got selected."

Incidentally, her first day at this new job was also the day she decided to marry Imranul Haque, who had been running a successful restaurant those days. Imran has spotted her at a restaurant where she had gone out with her friends. He pursued her for months with flowers to hear her say yes to his proposal. In April 1999 they started an enterprise of their own, the present AMI, and later the same year they got married.

"I love to spend time with my husband," says Amber. "I am a very family-oriented person, and family usually takes priority in my life. Recently I was approached to do the elections transmission, which involved spending 72-hours in the studio. That was just the kind of work I would have loved to do, but then I thought it would be unfair to my family if I spend so much time away from them." Hence, it just became another of the countless television offers to which her refusal is not a judgment on their merit. The thrills she needs in life usually come from the public relations work itself. The couple excitedly recalls a get-together of the Pakistan Chapter of the Young Presidents' Society in Lahore last year where over 200 young executives of highly prestigious enterprises from all over the world flew in for a three-day gala (partly arranged by Amber and Imran's company). "We met an Indian couple who became so friendly with us that they invited us to their daughter's wedding later that year," Amber recalls. "At first we thought that this just a courteous gesture, but they actually followed it up and helped us through all the difficult stages of obtaining a visa for India. We loved it so much, our entire stay in Delhi was simply out of this world." If you ask her to describe her ideal vacation, she would readily reply, "That wedding ceremony in Delhi." She might add with a little afterthought, "And of course I love to revisit America any time. Since I studied there for four years it is like a second home to me. I have so many friends there."

Working in public relations has turned out to be the right kind of thing for her. She likes the prospect of meeting people, manipulating the media to attain the desired targets and play a goddess to the destiny of high-profile business companies. This is, after all, what it means to be adventurous without being rebellious. An adventurer and a thrill-seeker she is. A rebel or a nonconformist she is not. She has no qualms about admitting that she listens to whatever music is in vogue, ranging from Enigma, modern pop, Indian film music, Pakistani young generation singers and, "frankly, whatever is the latest in the market." She picks her books off the shelves of the bookstores without being too selective (although she admits a special liking for the Chicken Soup for the Soul series. "I like uplifting and inspiring stuff," she says). This is the profile of a person cut out to be an image consultant, or a public relations winner. Amber Khan would flow with the tide and appear to be at ease with everything around her while her mind is instinctively assessing the positives and the negatives in the scenario. Then, when everyone has accepted her to be a part of their world, she would throw her card with a smile, and tell how each party would get the best of their lives by following whatever plans she has to offer them. The chances are that she would be right.
---
One thing that is true and almost irritating about Amber Khan as a celebrity is that she places too much importance on her family life. She speaks of it with a reverence that could easily get on the nerves of a fan who is expecting to hear more of her adventurous side
---