When I was choosing a name for my forthcoming book in 2006, "The Republic of Rumi" seemed to be an appropriate metaphor for the world I had discovered in the imagination of Dr. Sir Muhammad Iqbal (1877-1938).
Even before I finished writing that book, I could see at least two other implications of this phrase. In a way, Pakistan is the Republic of Rumi because Rumi has influenced almost all regional and classical literature, and religious ideals, in this region for more than 700 years. Also, the concept of Pakistan was presented (and its birth predicted) by Iqbal, who claimed to be a spiritual disciple of Rumi. Last, but not the least, Pakistan was probably the first modern state to defy both secularism and theocracy by officially proclaiming an ideology of spiritual emancipation.
At yet another level, "the Republic of Rumi" is also a metaphor for a whole world coming closer on terms of peace and understanding - a vision which I tried to present in 'A Parable Never Told' at the beginning of my book.
Khurram Ali Shafique
---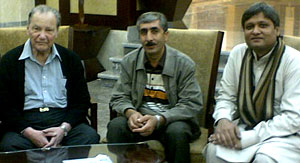 ---
With Dr. Javid Iqbal (left) and a Persian admirer of Iqbal (middle) in Tabriz, the city of Mevlana Rumi's mentor - on the occasion of the International Rumi Conference in October 2007.