Chatan
This memorabilia belongs to the Chatan, an Urdu weekly issued by renowned activist journalist Shorish Kashmiri in the early days of Pakistan. The following text appeared on a brochure distributed in 1950.
---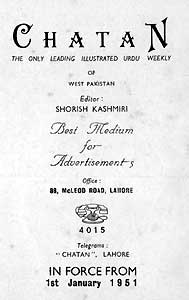 Chatan
The only leading illustrated Urdu Weekly of West Pakistan
Editor: Shorish Kashmiri
Best Medium for Advertisements
Office: 88, McLeod Road, Lahore

4015
Telegrams: "CHATAN", LAHORE
In force from 1st January 1951
Advertisment Tariff
Ordinary Position
Casual: Rs 4/8
Advertisements relating to Railways, Shipping, Government, Municipalities, Court Notices, Public Notices, Local Boards, District Boards, Company Prospectuses, etc., will be charged at 4/8 per coulmn inch per insertion
Contract rate
50" and over: Rs. 3/8
Title
3rd cover: 25% extra
2nd cover: 50% extra
4th cover: 75% extra
Mechanical details
Length of Column 12 1/2" No. of Columns to a Page 4
Width of column 2 1/2" Full Page 50"
Pages 24 including covers
Screen used 45 to 80
DAY OF PUBLICATION EVERY MONDAY MORNING
Terms of Business
1. All advertisement charges are strictly payable in advance, except in case of approved accounts, when bills are rendered monthly and are to be paid within 15 days of presentation.
2. Copies of advertisements must reach the office at least four days prior to the date of publication and if not so received will be published in the next issue unless specially forbidden in the instructions.
3. All space contracted for must be used within the contract period and excess space consumed during the contract period will be charged at the contract rate.
4. If the Advertiser neglects or fails from whatever cause (a) to pay his Bills regularly month by month, (b) reasonably to comply with the General Rules appended hereto then whenever such neglect or failure shall come to their notice, the Management shall be at liberty to suspend the publication of the advertisement and/or to cancel the contract, should they think fit, and forthwith to recover from the advertiser all sums due and payable under the contract.
5. The management reserves the right to refuse or suspend the publication of any advertisement, also refuse any contract at any stage and under any condition, without stating reasons.
6. No condition other than those set forth in the contract on the date of signature shall be deemed to form part of the Contract.
7. For purposes of Court and legal proceedings the jurisdiction will be LAHORE.
RIPON PRINTING PRESS, LAHORE
---
Source: A brochure distributed in 1950
---
Back to Top
---
Search the Republic of Rumi